Cygnus Co-CEOs in Penthouse Meeting

Discuss potential sale with leading media bankers in New York.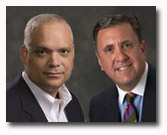 SEE RELATED: Cygnus Exploring a Sale
I met with Cygnus' co-CEOs, Tony O'Brien and Carr Davis [right], today at the Kitano hotel in New York. They confirmed the company is exploring a possible sale. (Click here for the full report.)
Shortly after the interview, two of the industry's leading M&A brokers, Reed Phillips and Roland DeSilva, walked into the lobby and were whisked by Davis to a closed-door meeting in a penthouse conference room.
This story, as they say, is developing … perhaps sooner than later.
Meet the Author
---