CurtCo Nearing Deals to Sell Several Magazines

Sources: Three separate acquisitions expected to be announced this week.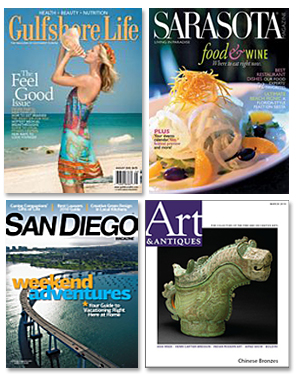 Malibu, California-based CurtCo Publishing is in the final stages of negotiations with three separate buyers to sell the magazines published under its Gulfshore Media group as well as San Diego magazine and Art & Antiques.
According to several sources with knowledge of the negotiations, one buyer is expected to purchase Gulfshore Life and Sarasota magazines, as well as their related properties. Meanwhile, a second buyer is expected to pick up San Diego and another will acquire Art & Antiques. The deals could close as early as this week.
The sources declined to say who the individual buyers are and a CurtCo spokesperson did not immediately return an e-mail seeking comment.
CurtCo's regional titles have been on the block since December. While CurtCo initially aimed to sell the properties as one unit, the economic recession and subsequent M&A market forced the company to sell the properties individually, according to the sources.
Weston Presidio-backed CurtCo, which publishes Robb Report under the CurtCo Media Labs parent company, acquired Sarasota, Florida-based Gulfshore Media (Gulfshore Life and Sarasota magazines) in 2004. It acquired San Diego and its related properties from San Diego Magazine Publishing Co. in 2005 and Art & Antiques from Trans World Publishing in 2006.
"CurtCo's regional acquisitions never made any sense," one source tells FOLIO:. "While they managed to sell some national advertising, but not enough. The brands never fit with Robb Report.
"I think these divestitures represent CurtCo trying to right its portfolio," the source adds.
CurtCo sold Worth magazine in 2008 to Boca Raton, Florida-based Sandow Media. Last year, it sold ShowBoats International to London-based Boat International Media.
Check back to FOLIOmag.com for updates to this story.
Meet the Author
---