Cover Critique: Vogue's Lebron and Gisele

Designers weigh in on the 'Kong' controversy.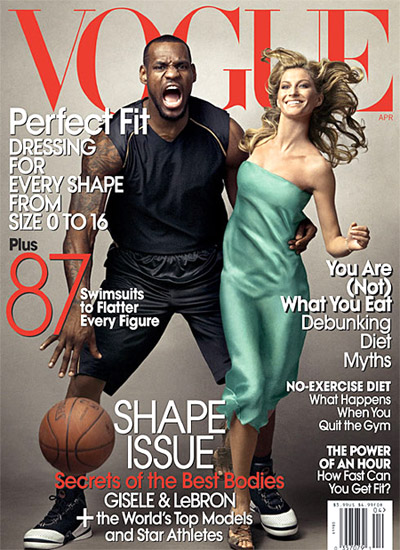 Vogue's latest cover—featuring basketball star Lebron James and supermodel Gisele Bundchen—was notable for a number of reasons. For starters, it was just the third time a man had appeared on a Vogue cover (George Clooney and Richard Gere being the other two) and the first African-American male to do so. But the magazine quickly came under fire for what bloggers and other media critics saw as perpetuating the ugly stereotype of a black man as the "wild, savage, white-woman-obsessed beast," as Gawker Media blog Jezebel put it. (One even suggested that those supporting the cover do a Google image search for "King Kong" for a comparison.)
Below, FOLIO:'s roving panel of designers weigh in on the controversial cover.
NAME: Stephanie Faucher
TITLE: Design director, Computerworld
CRITIQUE: My first reaction to this cover when I saw it at the grocery store was that the two images were so oddly paired. Giselle's exuberant face and posture is just so unnatural next to Lebron's manly roar. She almost looks like a cutout. I honestly didn't think "King Kong," I just thought "strange." But since having read the various reviews and looked at the comparison photos, the resemblance to King Kong is uncanny. I can't help but wonder if Vogue didn't intend to spark a controversy over the stereotypical nature of this image. After all, what better way to sell magazines than to run a controversial cover?
NAME: Kelly McMurray
TITLE: Creative director, 2communique
CRITIQUE: I heard there was controversy over this cover and went to the newsstand to check it out. I was looking for a controversial headline or a photo inspired by an iconic film still. What I see is an athlete in an aggressive stance. In my opinion this is a case of the people/media blowing something out of proportion and giving more attention to something than it merits.
NAME: C. Winslow Taft, Jr.
TITLE: Senior art director, mental_floss magazine
CRITIQUE: I don't feel qualified to comment on what many contend to be the controversial aspects of this cover. However, taking all of that out of the picture and simply looking at it as a cover, I don't think this is one of Vogue's most creative or enticing covers. I'm eagerly awaiting some amount of Brodovitch or Henry Wolf to show itself again on the cover of these magazines that show so much experimentation in their ideas for upcoming clothing trends.
NAME: Jennifer Perez
TITLE: Art director, Perez Dezign
CRITIQUE: Doesn't every cover perpetuate stereotypes? The weirdest thing about this cover is how bad Gisele looks.
NAME: Tim O'Brien
TITLE: Freelance illustrator, Rolling Stone
CRITIQUE: I'm critiquing this cover AFTER the media began speculation about whether or not it's a racially insensitive cover. I have to think that this is a case of a cover where all who had a hand in it getting published; photographer to designer to editor all thought only of this as a fun, dynamic image. Should designers carry around a special filter to question whether a cover or image is going to be interpreted as being viewed as inappropriate? I think so. Once the issue is raised, whether or not it is based on the designer's real intent, it's all that is remembered. Often cited as Time darkening a photo of O.J. Simpson, Matt Mahurin years ago did with an illustration what he does to ANYTHING he illustrates—he created a sense of depth and murkiness that make his illustrations so unique. The contrast from that image next to Newsweek running the same source image made it look like Time decided to darken O.J.—this is ludicrous of course and since that cover, I feel these kinds of blind spots are not so common. Vogue is always a type nightmare. I wonder if people actually choose to buy it based on any promised headline on the cover? I think people who buy this magazine would do so even if they had fewer headlines and allowed their cover image to have more impact. As for the image itself, I agree that the most remarkable thing here his how this isn't a good shot of Giselle and her neck is quite wide. I keep imagining that shoot and how they had to look 'fun' and make all kinds of runs at being active.
NAME: Dan Trombetto
TITLE: Art director, FOLIO:
CRITIQUE: The racial/stereotype issues aside, I simply do not like the shot here. It feels awkward to me—like Gisele is toppling over, almost as if she is tripping over Lebron's size 15 left sneaker. It also feels like the cover lines aren't playing so well with the image. Feels a little congested.
What do you think? Leave your own critiques in the comments section below …
Meet the Author
---