Cover Critique: Time Out's Duct-Taped 'Sex'

TONY's not-so-subtle jab at SJP, New York magazine.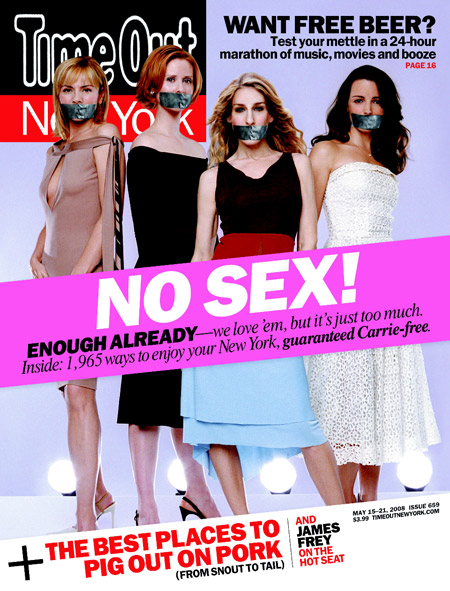 Time Out New York followed up its "sex issue" ("How Not to Promote Your Magazine's Special Issue") with the anti-sex, err, anti-Sex and the City issue. The cover features a photo illustration of the show's stars with their mouths duct-taped shut. It's an effort to combat the relentless hype the HBO-hit-turned-movie has garnered (see Entertainment Weekly's latest cover, for starters). It also serves as a thinly-veiled shot to its bigger, more established (and, frankly, better-designed) rival, New York magazine, which last week plopped Sex star Sarah Jessica Parker on its cover, declaring "Sex is Back"—as if it had never left.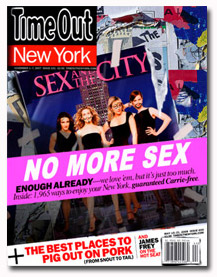 NAME: Tim O'Brien
TITLE: Illustrator, Rolling Stone
CRITIQUE: I subscribe to Time Out. They often have clever concepts on their covers. For me, a photoshop gag has to be well executed to work. I get that this movie is being talked about way too much, but duct tape over a woman's mouth, anyone's mouth is always sick. The trick can work visually, however, if the lighting on the tape matches the lighting on the women. In each, the model who posed with tape on their face for the photographer had one light source from the side and merely turned the head to match the head positions. The lighting on the photo of the Sex ladies is controlled and flat to minimize father time. The mix of both makes the tape too dark on the shadow side but works best on Cynthia Nixon, I guess. I would also have had the headline, "NO MORE SEX!" If I were in on the concept meeting, I might have pitched a photo of a torn and weathered poster on a wall in Manhattan with other images beneath it. New Yorkers show how they've move on in the small editorials written on posters in the subways. Perhaps it's too subtle though. Here [right] is how it might look. After doing it, I might like their cover more. Ha!
NAME: Dan Trombetto
TITLE: art director, FOLIO:
CRITIQUE: I was hesitant to comment on this one, because I felt my opinions might be swayed by the fact that I detest the show and its characters and I cringe whenever I see the trailers for the movie. So because of my feelings toward Sex, this image and concept immediately brings me some perverse sense of joy. Sure, the cover subject with a duct-taped mouth has been done a few times before—but this image does convey exactly how I feel about the franchise at this point. It's probably safe to say that much of their target audience (New Yorkers) share these sentiments as well. And while I don't think they were really aiming for a design award with this cover, it still probably could have benefited from a smaller color range. Maybe it's the reds that aren't mixing too well with the cooler pinks, lavenders, blues … Color clashing aside, this cover still makes me happy.
NAME: Marco Turelli
TITLE: Art Director, Wine Enthusiast magazine
CRITIQUE: Luckily for TONY, they don't have to rely on newsstand sales. I think that it is an adequate attempt at not much of a rebuttal to NY Magazine's coverage. I'm sure that I could enjoy NYC Carrie-free 1965 times between Ave A and B alone, so I don't think that the cover line really sells me on much. I'm sure readers in Jersey and Queens will be jumping out of their socks when they see this issue. Color palette is horrible. Off the top of my head I'd rather see a pile of designer shoes in a dumpster with the "no sex" cover line. Better than what looks to be stock shots of somewhat asexual, past-their-prime women. (Maybe it does work?) I'd give it two out of five stars, I guess. 
What do you think? Leave your own critiques in the comments section below …
PAST FOLIO: COVER CRITIQUES:
Rolling Stone's Barack Obama Endorsement
Vogue's Lebron and Gisele
New York's Spitzer Cover
Meet the Author
---