Courage On Display at 2015 Neal Awards

Crain Communications wins most awards, Grand Neal.
NEW YORK—In the age of clickbait, the 61st annual Jesse H. Neal Awards were a reminder that courage is still an integral part of good journalism and successful publishing.
Those courageous enough to take on high-profile stakeholders and overcome odds stood out as leaders across the B2B media industry were recognized for editorial excellence at the ABM/SIIA ceremony at Pier Sixty Friday in New York City.
Richard Korman, deputy editor at ENR and ENR RiskReview for Dodge Data and Analytics, was one of the individuals honored as winner of The Timothy White Award for Editorial Integrity. Korman has drawn attention for his brave reporting on the construction industry for three decades, including notable recent projects on same-sex bullying and insurance guarantee fraud.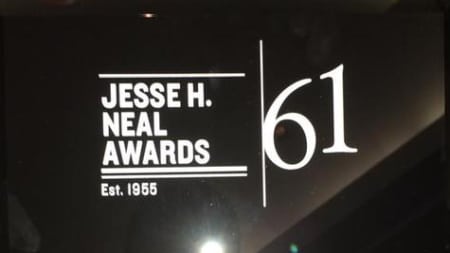 "I'm an investigator, but no Ida Tarbell or Lincoln Steffens or Woodward and Bernstein," Korman said in his acceptance speech. "I'm an editorial manager attuned to my company's business goals. We need brilliant websites and fascinating conferences—we need business models that support the resources for Timothy White-, publically-spirited reporting and writing or we won't be entitled to the trust of our industries. Unless brands treat journalism as a calling, we can't call it journalism."
Korman's honor was one of several for Dodge Data and Analytics—the company got five Neals, in addition to The Timothy White Award—but Crain Communications was the big winner of the event.
Crain took home the most awards (7), the Grand Neal and individual honors for two of its brand leaders. Automotive News won the Grand Neal for its news coverage of General Motor's ignition-switch recall, while Glenn Coleman, editor-at-large for Crain's New York Business, was named the 2015 McAllister Editorial Fellow, and Fawn Lopez, publisher and vice president of Modern Healthcare and Modern Physician, took the Gertrude Crain Award for women's leadership.
Lopez, a Vietnamese immigrant, moved the crowd with her personal journey from a child in the post-war third-world to her current role as a successful media executive. The resolution and leadership exhibited by her father, a former colonel in the South Vietnamese military who worked two jobs to support a family of nine after immigrating to the U.S., continue to motivate her to this day, she said.
"My father had big dreams for his children and grandchildren," Lopez said. "My success is a result of his love, overwhelming commitment to family and a strong belief that we were destined to do great things in life. Since 1975, my life has been filled with struggles, but also many triumphs."
ALM also left with an armful of trophies, winning for Best News Coverage, Best Single Issue, Best Range of Work by a Single Author, and several other categories on its way to six awards.
Meet the Author
---