Could Webisodes Replace Mag Reality TV?

The model may appeal to publishers not ready to pony up for a trial season.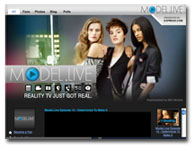 Over the past year or so, a number of consumer titles have piggybacked on the popularity of reality television, and show no signs of letting up (Condé Nast is the latest to announce the debut of "Gourmet's Adventures With Ruth" this October).
Some, like Marie Claire, have seen viewership for its TV initiative soar out of the gate; its eight-episode docu-series, "Running in Heels," reported 5.1 million total viewers across all telecasts on Comcast's Style Network. (Hearst already has plans for future MC-branded TV partnerships, confirmed a rep). Bravo's Top Chef saw a 20 percent increase in viewers this past season (3.63 million in total), with Food&Wine's Gail Simmons acting as a show judge and a critic. Popular fashion reality show, Project Runway, initially saw a similar success through a Bravo-Elle partnership, with its fifth season averaging 3.6 million viewers.
But oh, how the mighty fall. Since Elle fashion director (and one of the show's judges) Nina Garcia left the title for Marie Claire, this partnership has disintegrated, leaving Elle to regain its TV presence through the launch of Stylista on The CW this past spring. The show reported only mediocre success—1.7 million viewers for its eight episode run, with the show's future left hanging in the balance.
Time Inc.'s Real Simple. Real Life. also experienced underwhelming results in the 300,000-viewer range, while Nielsen's American Idol-style show, Billboard Next, was announced, but never even made it on the air (a rep was not immediately available to confirm future plans for the show).
But as a low-budget alternative to a sitcom, producing a reality TV show isn't a bad move for publishers. It can save around 35 percent over sitcoms (no scripting and fewer high-profile celebs) and is a logical next step in the brand extension process. The downside? Publishers have to be confident enough in their dramas to drop at least $950,000 per episode—a chunk of change that's hard to stomach for even the largest titles.
Webisodes: Magazine TV Testing Phase?
While online video has traditionally been reserved for how-to content, it may also serve as a test phase for publishers who don't want to pony up prematurely.
In the past, Vogue's received flack for shunning reality TV in favor of its own Model.Live, a 12-week, 14-episode reality show online at Vogue TV. Despite being online-only, the series saw over 1 million views only three weeks after airing last summer. Of course, in the style of Vogue, an initiative which could have been a money saver was taken to an extreme, hitting the $3 million mark to produce. Another series of webinars to debut this September is Meredith's More "The Broadroom," written by Sex and the City author Candace Bushnell.
According to a recent comScore report, online ads are proving just as effective as TV ads (over a 12-week span, online campaigns involving consumer packaged goods with a 40 percent reach were responsible for lifting retail sales 9 percent; the average lift of TV was 8 percent). As the argument for advertisers online becomes stronger, are there incentives for publishers in the TV trial phase to test their luck with webisodes?
"We wanted to explore the new online frontier," Julie Fuoti, vice president of marketing for Meredith 360 told me. "Especially since reality television is a huge investment."  The Broadroom will rely on Meredith's recently launched Gamma network to reach out to its 10 million-plus target female audience, said Meredith. And despite being uncertain of what to expect, Nancy Weber, Meredith Publishing Group's CMO, thinks "it's an exciting new format and very flexible, particularly for publishers trying new programming."
While not a reality show per se, The Broadroom's fourth webisode will be a looser form, reality-based sneak peek; More also has "something on pilot now that will be webisode-based and will have a reality bend," said Fuoti. "Really, the concept was just right for the brand, and is what Candace [Bushnell] does best. However, this doesn't preclude reality TV for us."
While it remains to be seen whether The Broadroom will ever make it past the Webisode stage, at a time when few publishers lack the extra to invest on a TV experiment, will more and more publishers turn to the Web to test for TV?
Meet the Author
---