Cosmopolitan, jcpenney Partner in Clothing Line

Cosmo-branded lingerie and accessories to be sold online and in 600 stores.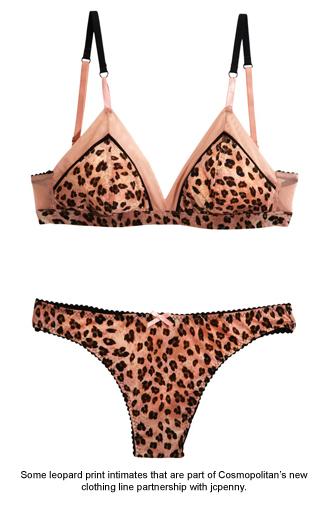 You can now get your Cosmo at jcpenney—not the magazine though, the clothing line.
The Cosmopolitan Collection, a new brand of lingerie, sleepwear and accessories inspired by the world's top-selling women's magazine, went on sale this weekend at jcpenney's 600-plus retailers across the country and on jcp.com.
The launch culminates a two-year collaborative process between the companies that began with discussions between recently-departed Cosmopolitan editor-in-chief Kate White and former jcpenney CEO Mike Ullman in November of 2010.
"[It's] the brand coming to life in a fashion realm," says Susan Schulz, Cosmo's editorial brand director. "The process has been very smooth. Everybody, I think, in the beginning was a little nervous. I don't know that it's ever really been done before that a magazine would have this much input."
Cosmo will play a role in marketing and promotion of the line through traditional ad placements, as well as content integration.
A slideshow featured on the Cosmopolitan.com front page Thursday allows readers to link to a story about the product launch and includes an option to purchase the clothing from jcp.com.
"One of my main jobs as we move forward is finding ways to integrate the product," Schulz says. "How to promote the product in an organic way that makes sense for our reader. We know she doesn't want to be clobbered with it, she doesn't want to be getting a message about the Cosmo Collection every five seconds."
"But where it does make sense to her, we want to be able to tell her, 'Look at these new shoes. They're in store now. We think you're going to love them.' "
The product launch is the first of its kind for Cosmopolitan, which attracts more than 18 million print readers and 8.5 unique monthly visitors. The company has participated in collaborative media projects with Sterling Books and YouTube, however.
jcpenney also signed a licensing deal with Martha Stewart Living Omnimedia [MSLO] in December of 2011. That agreement calls for a line of MSLO products to be sold online and in retail outlets that will be constructed within most jcpenney stores by February 2013. jcpenney also invested $38.5 million in MSLO in the deal.
Meet the Author
---