Cosmo's Chance With Joanna Coles

Can the new editor-in-chief reimagine a now formulaic title?
Hearst Magazine's resident PR guru, Jessica Kleiman, hit the nail on the head when prepping newly appointed Cosmopolitan editor-in-chief Joanna Coles for an upcoming interview (see video below), asking the question on the minds of several media reporters:
"Given the direction you took Marie Claire, do you have plans to make Cosmo more sophisticated?"
This could be a seminal moment for Hearst Magazines, Cosmopolitan and Coles herself. The title has been slammed recently by Victoria Hearst, the granddaughter of Hearst Corp. founder William Randolph Hearst. According to a press statement released in June, Ms. Hearst partnered with ProjectInspired.com founder Nicole Weider in an "Anti-Cosmo Mission."
"About 11 years ago, I contacted Frank Bennack and the Board of the Hearst Corporation and told them that what they are publishing in Cosmopolitan magazine was pornographic. I had the support of two female psychologists and counselors who attest that this content hurts young girls. Like Nicole (Weider), I also asked that the magazine be sold only to adults 18 and older," said Ms. Hearst in the June statement. "When I heard about Nicole's campaign, I knew I needed to join in her mission to put Cosmopolitan in a bag and make sure that its pornographic content cannot be sold to minors!"
SEE ALSO: Post-Photoshop Crisis, Hearst Receives Shrink Wrap Demand
You would be hard pressed to find any issue of Cosmopolitan from recent memory whose content didn't prominently center on sex. Cosmopolitan is so synonymous with sexual content that when reporting on the new Fifty Shades of Grey Magazine (which is based on erotic literature), the Huffington Post's Julie Gerstenblatt said:
"This magazine is like Cosmo with fewer articles about sex."
Cosmo's sex focus has worked well for it. It's the biggest selling beauty/fashion title on the newsstands. But that same formula focus could wear thin in the longer term (the magazine did slide 15 percent on the newsstand in the first half, after all), which may be an opportunity for Coles, who's Marie Claire was turned not only into a fashion staple, but a place where women can actually learn something other than "50 Kinky Sex Moves."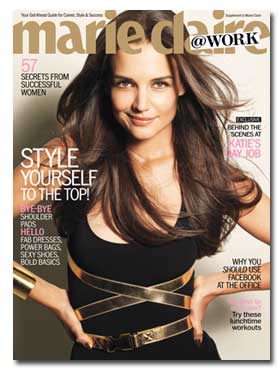 Under Coles, the Marie Claire @Work content department was turned into a new polly-bagged quarterly magazine supplement, focused on tips and strategies for women juggling work and life, career advancement and employment challenges. The magazine also launched a series of career panel luncheons to engage women, and a mentorship program that will be executed around the country. LinkedIn was also being used to increase the buzz around Marie Claire @Work—the publication designed the Marie Claire Career Network on the social platform to give women an avenue for digital business networking and discussions.
"Cosmo is a huge global brand empowering women," Coles told Klieman.
Cosmo does empower women—to hop in bed. It is true that the brand covers other topics of interest, but its ace in the whole is always sex. Marie Claire, on the other hand, is more representative of a true general interest magazine, consistently exploring multiple aspects of women's lives, and not just as a backdrop.
According to MagazineRadar, Marie Claire exceeded their previous all-time single issue ad-page record this September, earning the sixth spot of the top 10 women's fashion magazines with the most increased ad-pages. Further, according to min box scores, Cosmopolitan posted ad-page losses for seven months when comparing 2011 to 2012 figures from February to September. On the other hand, Marie Claire saw two months of losses, and six months of growth over 10 percent when comparing the same periods.
This post should not imply that Coles should turn Cosmo into Marie Claire—they each need their own distinct voice for their own distinct audiences. It will be interesting, however, to see the direction the new editor-in-chief takes the brand. Historically, when a publication gets a new leader the first thing they think of is a redesign, an examination of content sections and the direction they wish to take a brand in order to receive appropriate recognition. With eyes watching the behemoth that is a legacy brand like Cosmopolitan, expect Coles to make her mark.
T.J. Raphael is an Associate Editor at FOLIO: Magazine. Follow her on Twitter: @TJRaphael1.
Meet the Author
---