Consumer Reports Takes Out Ad Warning Consumers of Credit Card Debt

'No 'bailout clause' in your credit card agreement,' USA Today ad warns.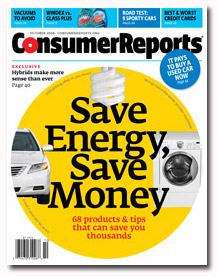 Consumer Reports—a magazine that prides itself on not accepting advertising—is running an ad in Monday's USA Today, warning consumers about the pitfalls of credit card debt.
In addition to the full-page ad in USA Today, Consumer Reports will run a series of online ads across personal finance and consumer blogs including Consumerist.com, Bargainist.com and Yahoo's Shopping channel.
The ad—which reads "There's no 'bailout clause' in your credit card agreement"—is part of the magazine's third annual public education campaign.
Last year, the organization took out a full-page ad in the New York Times, advising consumers that $8 billion in gift cards go unused. In 2006, Consumer Reports took out a full-page ad in USA Today advising consumers to skip extended warranties. (This ad was controversial; a week later, the Service Contract Industry Council took out an ad to rebut the Consumer Reports advice.)
Consumer Reports—published by Yonkers, New York-based nonprofit the Consumers Union—has experienced significant growth over the last five years, the publisher said, with newsstand sales reaching 190,000 in 2008, up from 83,845 in 2002. Subscriptions this year are 4.3 million, up 12 percent from 3.9 million in 2002.
ConsumerReports.org has 3.2 million paid subscribers making it the largest paid subscriber site in the world, according to the publisher.
Meet the Author
---