Consumer Ad Pages Drop 9.4 Percent in Q1

However, 'six times' as many titles showed improvement compared to last year.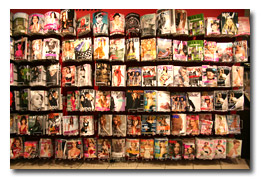 RELATED: Publishing Powerhouses Show Some Positive Advertising Results
While some are saying the worst of the economic recession is over, traditional advertising hasn't begin to rebound as everyone has hoped. Advertising pages among the consumer magazines tracked by the Publishers Information Bureau declined 9.4 percent during the first quarter of 2010 compared to the same period last year, while estimated ad revenues fell 3.9 percent to $4.04 billion. The group released its first quarter report today.
Of the 12 advertising categories tracked by PIB, three showed ad page growth, including some of those that have been hardest hit by the recession: Financial, Insurance and Real Estate (+11.3 percent), Toiletries and Cosmetics (+7.6 percent) and Automotive (+1.3 percent).
According to Magazine Publishers of America executive vice president and CMO Ellen Oppenheim, the quarter did have some positive signs. "The picture was brighter with an increase in major categories posting ad page and revenue growth, despite softness overall," she says. "In addition, almost six times as many titles generated ad page gains compared to first quarter of 2009, another sign of industry improvement. The positive trending in pages and revenue suggests that second quarter performance for magazines will be stronger."
During the quarter, 85 magazines posted an increase in ad pages, compared to only 15 during the same period in 2009. The largest ad page gainers for the period were: Time Inc.'s People Stylewatch (up 134.4 percent to 134.6 pages), Scuba Diving (up 107.6 percent to 50.1 pages), Executive Travel Skyguide (up 79.1 percent to 76.27 pages) and Martha Stewart Weddings (up 77.4 percent to 432.92 pages).
The magazines that saw the biggest ad page losses during the quarter were National Geographic Kids (-57.6 percent), Wakeboarding (-49 percent), Caribbean Travel & Life (-47.6 percent), and Veranda (-45.3 percent).
Meet the Author
---