Confimed: Consumer Engagement on the iPad is Complex

We know this because science says so.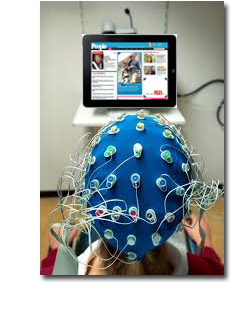 Time Inc. recently teamed up with UM, a marketing agency, and EmSense, a firm that studies quantitative neurometrics while people shop and look at advertisements, to strap electrodes to iPad owners. Literally.
The three companies just completed a study to determine how iPad users are interacting with advertisements in magazine apps-in this case, Time Inc. ones.
EmSense brought the science, measuring neuromatic responses of 180 iPad owners through a combination of EEG readings, eye tracking, surveys and one-on-one interviews.
Key findings have revealed that user interaction on the device is "complex." Results are being crunched from 24 million data points, but the companies have zeroed in on three engagement elements:
-Visual Attention: the ad's ability to grab the reader and keep him on the page
-Accessibility: whether the ad has "entry points" that enable the user to engage the iPad's swiping and tapping features
-Propulsion: whether those entry points actually engaged the reader, pulling him deeper into the experience
Publishers are all clearly interested in how folks use their mag apps and some are forming focus groups to determine likes and dislikes, but Time Inc. has pushed the concept into the realm of hard-core science.
According to the companies, this is the first time that biometrics research has been used for app ad engagement. Mike Haggerty, UM's senior vice president and director of research and marketing accountability, and Betsy Frank, Time Inc.'s chief research and insights officer, presented the study yesterday at Advertising Age's Media Evolved event in New York.
Can you picture a sales rep walking into an agency and unfurling an EEG readout? It'll be the new ABC statement. "Here, you can see how iPad user #136 reacted to the video in the Audi ad. Look at those spikes! His reading is off the charts!"
But I kid, a little. Even if publishers are treating tablets as a sort of alien to be poked and prodded, I'm sure studies like this will contribute to a valuable pool of data, which, I hope, will somehow be collected together for the industry to share.
In any case, this kind of study is very revealing in the sense of just how unknown this new digital frontier is to publishers-and how important they think it is to them.
Bill Mickey is executive editor of Audience Development magazine.
Meet the Authors
---