Condé Nast, Hearst: Dream Factories Facing Declining Revenues

Consumer powerhouses not immune to evolving magazine model.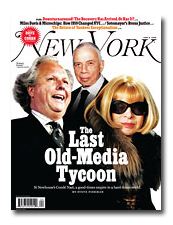 Condé Nast and Hearst, two heads on the Mt. Rushmore of the consumer publishing industry, were the subjects of lengthy profiles recently.
New York magazine contributing editor Steve Fishman this week wrote an intimate, detailed profile of Condé Nast chairman Si Newhouse, the publishing empire he created, and the players—including Vanity Fair editor-in-chief Graydon Carter and darling super-group publisher David Carey—who make the company what it is today.
The nearly 7,000-word cover story painted Newhouse as a man who romances the business of publishing magazines. The New Yorker editor-in-chief David Remnick told Fishman that Newhouse "loves magazines, meaning the whole and all of it, the variety of things published, the business details, the visions and actions and personalities of his editors, the problems, the problem-solving, the ink and paper … the all of it."
While it takes a lot of passion (hopefully) to oversee a company like Condé Nast, the business, as the story points out, is about making money. For years, the privately-held company has seen cash cows like Glamour keeping sister titles often in the red, like the New Yorker, afloat.
However, the economic recession and the subsequent advertising pullback took an exceptionally dramatic toll on Condé Nast. Through the first three months, the company's 22 magazines combined for an average 30.5 percent decline in ad pages—compared to the consumer-side average of -25.9 percent, according to PIB. The company's drop-off was punctuated by big losses from Portfolio (-60.9 percent, and shuttered in April), Wired (-57.2) and Architectural Digest (-47.2). Even Glamour was down 22.3 percent.
Meanwhile, Hearst was the subject of a rather sympathetic profile in the New York Times. The publisher saw ad pages at its 14 titles—not including the Food Network magazine—fall an average of 20.87 percent during the first quarter.
To be fair, PIB figures don't represent additional revenue streams, including online, data, events, etc. But Condé Nast has been slow in some of these areas, especially the move to the Web. As the New York story pointed out, the publisher has viewed the Internet mostly as a vehicle to sell magazine subscriptions, and not much else.
Even Remnick had a sober outlook on the future of its magazine portfolio: "Look, the economic climate is awful. There's no reason anything in this world stays the same. Only a fool, and I don't think there are any fools involved in this story, would assume that the picture, right at this moment, is going to stay the same."
Meet the Author
---