Condé Nast Invests in Fashion Commerce Site farfetch

Stake expands reach into international e-commerce.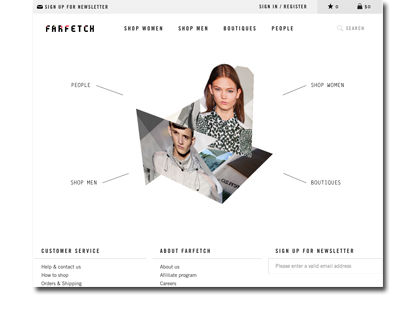 Condé Nast has been busy this first quarter making investments in fashion and design-related commerce sites. Boutique fashion curation site farfetch just secured a $20 million round led by the publisher's international division, which has also recently taken stakes in Monoqi (design) and RenéSim (jewelry)—both based in Germany.
"As the leading multimedia publisher connecting people to the fashion brands they love, this investment underlines our commitment to extend the scope of our actdivities and back great entrepreneurs," says James Bilefield, president of Condé Nast International Digital, in a statement.
With the investment in farfetch, Bilefield will join its board.
farfetch curates items from 250 boutiques, currently taking in about $129 million in annual sales, with customers spending an average of $638 per order. According to the company, 65 percent of sales occur outside the U.S. and UK.
The farfetch investment follows two other recent and similar deals with Monoqi, which focuses on design products, and RenéSim, an online-only jewelry retailer. Condé took a 26 percent stake in Monoqi towards the end of February and is currently its largest stakeholder. At about the same time, the company boosted its stake in RenéSim, which it originally took in 2011, to 46 percent. According to RenéSim, sales have quadrupled since Condé's 2011 investment.
Meet the Author
---