Comparing Open Source CMS

While they offer similar features, not all open source is created equally.
Open source content management systems aren't just the ticket for smaller publishers trying to ramp up their Web infrastructure on a tight budget. Larger publishers are opting for open source CMS as well with Drupal and Joomla getting much of the attention. In the chart on the right, Folio: compares some of the features offered by open source with enterprise CMS TeamSite (courtesy of CMSMatrix.org).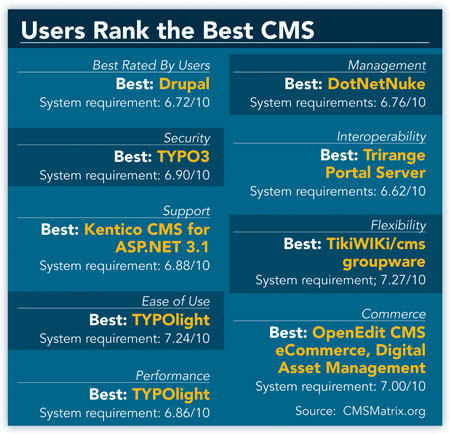 Comparing Drupal, Joomla
A number of popular publications, including Fast Company, Us Magazine and MacLife, (and FOLIOmag.com:) all use Drupal for their online presence. Drupal is relatively turnkey and makes some interactive elements such as polls readily accessible.
"Drupal has gotten to the point where it's a sophisticated software platform for both trade publishing and in the 'Web 2.0' space," says Paul Maiorana, director of technology and production at Fast Company. The business publication updated its Web site this past February, and looked to Drupal for the user-friendly features it offered, including "community, social networking, blogs, groups, etc.," he says.
While there are few expert developers for Drupal, users can benefit from the feedback of a fairly large community of fellow users. "It enabled us to get to ground really quickly," Maiorana says. "Out of the box it's a powerful piece of software, and the developer community is large. We have a small tech staff in house, so we were able to leverage different disciplines" offered by the software. "We worked with a few different Drupal teams to choose the best in each discipline."
The only drawback that Maiorana saw was in manpower. "Drupal developers are in pretty high demand, so we weren't able to staff up as quickly as we would have liked," he noted, although he adds that the updated site is now fully staffed.
Joomla was chosen by Las Vegas Sports Magazine when the 6,000-circ publisher launched its online presence in January 2007.
"Once you set up Joomla, if you know Microsoft Word, you can update the site as needed," says Web developer Rob Kristie, founder and CEO of RosieDog Creative, who built the site, LVSportsMagazine.com. "It literally took only about two hours' worth of training to bring the publishers up to speed on managing the Web site."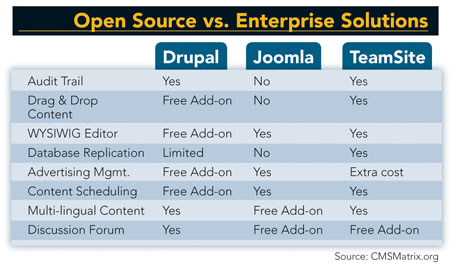 Meet the Authors
---