Columbia Journalism Review Scales Back Print Version

Starting next Spring, the "watchdog of the watchdogs" will switch from bimonthly to two issues per year.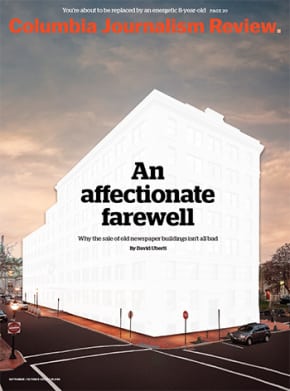 Columbia Journalism Review announced that it will reduce its print issues from a bimonthly schedule to two issues per year, citing a need to redistribute resources between its print and digital platforms.
In a letter to readers posted on CJR.org, editor-in-chief Elizabeth Spayd announced plans to boost investment in the magazine's online operations in response to its increasingly digital audience. While print readers have steadily declined, Spayd writes, visitors to CJR.org have increased 35 percent.
"The cost savings—in production, mailing, art and design and just everyone's time—are significant," Spayd tells Folio:. "I'd say it comes between a third and half of our budget. I'm pumped up about the idea of taking those marbles and moving them over to the digital side."
With its reduced schedule, the print format will also take on a slightly modified focus, although Spayd promises that the non-profit magazine's goals of providing high-quality watchdog coverage of the journalism industry will be unchanged. Instead of selections of several types of pieces, the two annual issues—one each in the Spring and Fall—will focus on singular, idea-driven, fundamental-to-journalism themes, says Spayd.
"We went to two print issues because we think it's possible at that pace to make them truly special, more ambitious and more high-concept than the ones we could manage or afford on a bimonthly basis," Spayd continues.
Spayd tells Folio: that there will be no layoffs or staff cuts involved with the transition.
"Rather, we're rethinking most everyone's job and how we can position everyone toward digital in the smartest way."
Columbia Journalism Review will debut in its new format in Spring 2016.
Meet the Author
---