Colorado Airport Blocks Magazine Web Sites

Vanity Fair, SI.com deemed too 'provacative.'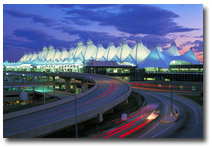 Travelers visiting Denver International Airport are discovering that they can't access certain magazine Web sites when using the airport's free Wi-Fi. Airport officials are filtering sites for magazines such as Vanity Fair and Sports Illustrated because of their "provocative" content.
This, of course, despite the same titles being freely available at airport newsstands.
Other sites, including gossip blog perezhilton.com and boingboing.net have been blocked by the airport. The filtering first became public when David Byrne, the Talking Heads singer and noted blogger, could not log onto various blog sites while traveling through Denver. Byrne, naturally, blogged about his experience.
According to a report in the Denver Post, airport officials started blocking the sites in November after receiving complaints from parents whose children walked by people viewing porn online, spokesperson Chuck Cannon told the newspaper.
According to Cannon, the Wi-Fi service manages about 4,000 connections per day, and the airport has received only two formal blocking complaints so far.
Boingboing editor Xeni Jardin likened the airport's filters to those used by "repressive regimes of Sudan and Kuwait."
"This gets to the heart of what the Internet is all about and whose responsibility it is," Jardin wrote in a post. "It seems particularly unfortunate that something as symbolic as the city's airport, a gateway to culture, commerce and the flow of ideas, would be blocked in such a fundamental way. The intent is understandable, but the outcome is bad for Denver."
Representatives from Vanity Fair and Sports Illustrated could not be immediately reached for comment.
In an e-mail to FOLIO:, Eileen Denne, senior vice president of communications and marketing for the Airports Council International, wrote that it is up to each individual airport to determine "whether and how" to offer Wi-Fi service to customers. Denne indicated that she is not aware of other airports also blocking magazine Web sites.
Meet the Author
---