CNN-TIME's Political Convention App Exceeded 10,000 Downloads on First Day of RNC

The app offers round-the-clock National Convention news and alerts to its users.
J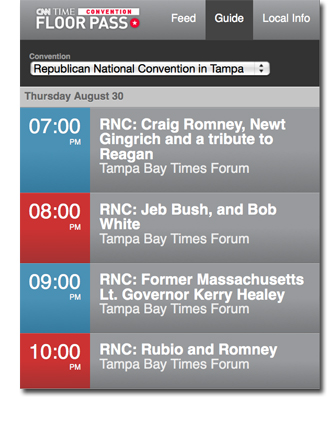 ust a few days prior to the Republican National Convention, Time Warner Inc. launched the CNN-TIME Convention Floor Pass app for access to 24/7 breaking news, alerts, commentary and updates from the Republican and Democratic National Conventions. The app features daily analysis and early access to CNN-TIME polls, photos and video from CNN and Time journalists at both political conventions.
According to Matt Dornic, senior director of public relations at CNN Worldwide, the app "exceeded 10,000 downloads after the first official day of the convention." Other assessments are currently in the process, but "we've only really been populating for a day at one of two conventions," says Dornic.
Features of the app include:
• A news feed presenting users with analysis and news along with a "Top 5" page spotlighting five popular stories daily.
• A TIME cover of the day released each day of the conventions with a corresponding cover story.
• A library of convention speeches from legislators and newsmakers of both parties found in the "Speeches" tab of the app.
• A "Guide" section with a calendar of convention activities and events, a "Maps" page including the locations of the Charlotte and Tampa Bay convention halls and a "Local Info" tab listing restaurants, bars and taxi services near both cities.
• A "Social" tab that has a dashboard of Twitter election chat and also lets Twitter and foursquare users tweet and check-in from within the app.
• The "Bump n Find State Badge Quest" that lets delegates and convention attendees identify their state of origin in order to unlock the first of 50 state badges. Through bump technology, they can collect other states and share their badges with other app users.
The app was created by mobile app developer Carnival Labs Limited for Time Warner Inc. and is accessible on the iPhone, iPad, Android and any other web-enabled mobile devices.
Meet the Author
---