Circulation Associate/Assistant

Circulation associates and assistants expect salaries to increase in 2008 based on flat compensation levels over the past few years.
Based on survey data from 2007 and this year's report, salaries at the circulation associate/assistant level are relatively flat in the b-to-b and consumer markets—associate-level positions reporting in the association publishing market were too few to count this year. Compensation across b-to-b and consumer markets are relatively equal, as they are at the manager level—salary disparity doesn't really show until the director level, with higher salaries reporting in the consumer field.
Associates working in companies with more than $10 million in revenue only make about $3,300 more than their counterparts at companies with less than $10 million in revenues. Geography, however, does count for something, with those in the Northeast making at least $4,600 more than their colleagues in other regions of the country. When asked about the biggest challenges circulation associates and assistants face, many replies indicated time constraints; an increasing need to acquire Web and digital skills; and workload, particularly putting systems in place for a digital positioning of the brand.
And when asked about industry trends that could affect personal compensation during the next year, perhaps unsurprisingly, respondents pointed out trends that could adversely affect salaries outnumbered those that mentioned positive trends.
One respondent noted, "I think the cultural and societal shift to online media and less print will affect the company more and more, decreasing revenue, jobs and pay. We're trying to keep up, but the budget isn't there to purchase the technology needed to do so."
AVERAGE SALARY BY:
Gender
Male: $40,900
Female: $36,900
Age
Younger than 40: $35,600
40 or Older: $43,300
Education
Graduated College: $38,200
Postgrad Degree: N/A
In New York City Area
Yes: $41,600
No: $37,000
Geographic Distribution
Northeast: $41,200
Midwest: $33,900
West: N/A
South: $36,600
Years in Publishing Industry
10 years or less: $36,200
10-19 years: $45,300
20 years or more: N/A
Years in Present Company
5 years or less: $37,500
5-9 years: $37,800
10 years or more: N/A
Years in Current Position
3 years or less: $37,100
3-9 years: $39,300
10 years or more: N/A
Number of Publications Worked on
1 magazine: $39,000
2 or more magazines: $38,300
Number of Employees Supervised
None: $38,300
1-4 employees: N/A
5 employees or more: N/A
Company Revenue
Less than $10 million: $37,300
$10 million or more: $40,600
Revenue of Respondents' Publications
Less than $3 million: $38,400
$3 million or more: $39,500
Paid/Controlled Pubs
Paid only: $40,200
Controlled only: $40,000
Mix of both: $38,000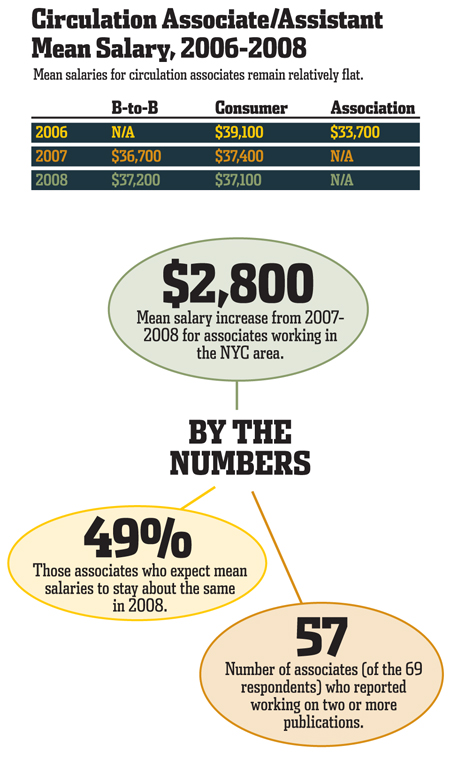 SEE ALSO:
SALARY BY CATEGORY: Circulation Director or Top Circulation Executive
SALARY BY CATEGORY: Circulation Manager
Meet the Author
---