Christian Groups Slam Boston Mag Ad

Taking the city's mind off Bundchen—for a moment.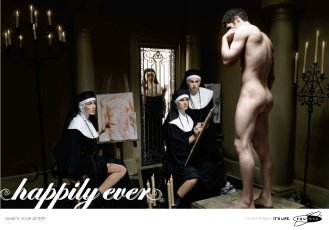 As reeling Boston sports fans look for someone—anyone—to blame for the Patriots' upset loss to the New York Giants in yesterday's Super Bowl, Boston area Christian groups are pointing their fingers at Boston magazine over what they say is a controversial ad in the February issue.
The ad, for the Equinox Fitness Club, depicts a group of women dressed as nuns in habit sketching a buff naked man. The ad was designed, in part, by edgy advertising agency Fallon Worldwide as part of its "Happily Ever" campaign which the agency says asks: "What is your Happily Ever? What are you striving for in fitness? In life? What's the fairy-tale end game to all your hard work?" The campaign has also run in a number of national magazines including Vanity Fair, Vogue and Esquire.
"This patently stupid ad that Equinox is floating suggests that it must hype its edgy image in order to compete," Catholic League for Religious and Civil Rights president Bill Donohue wrote on the group's Web site. "That's too bad—apparently their targeted demographic group isn't lured by the prospect of more barbells and fruit bars. Hence, the need to rip off Catholic imagery in a sophomoric soft-porn ad."
Sophomoric? Maybe. I'm not sure how this installment of the "Happily Ever" campaign really helps sell gym memberships. Soft porn? The ad is certainly edgy (it has caused a bit of a stir, hasn't it?), but I'm not sure that it really crosses any lines.
David H. Lipson Jr., president of Metrocorp (Boston magazine's parent company) did not return an e-mail seeking comment. A Fallon Worldwide spokesperson declined to comment about the controversy.
What do you think?
NOTE: Please leave your comments in the comments section below.
Meet the Author
---