Cheer Up With "Worthless Gifts for Print Veterans"

Facebook gift app offers Jim Beam, George Carlin and relics from the print age.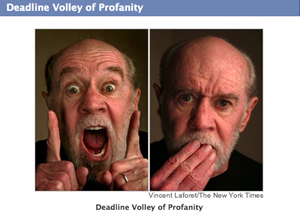 Sometimes you gotta laugh: Darlene Koenig has created a Facebook gift app called "Worthless Gifts for Print Veterans." The faux gifts run the gamut from relics of the print age (TTS Punched Tape, Layout Desk Proportion Wheel) to (non)-inspirational fare such as "Journalist as Folk Hero" (a copy of "All the President's Men"), "Disappearing Editorial Cartoonist" and a George Carlin-inspired "Deadline Volley of Profanity."
Still, it's nice to know that some print essentials remain timeless, such as the "Old-School, Post-Deadline Refreshment" (a bottle of Jim Beam).
Enjoy, and pass on to your peers struggling to get back into the post-holiday groove.
Meet the Author
---