CFO Launches Paid Data Tool

'Several dozen' reports sold in first three weeks at $1,200 each.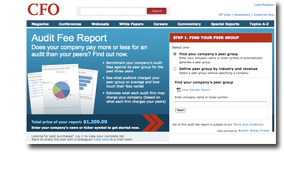 In an effort to pull more revenue from its readership in the face of declining print advertising industry-wide, CFO recently launched its first fee-based online data tool that generates comparative reports on how much companies in a specific market are paying for their audits.
For a flat fee of $1,200, the audit report tool essentially allows readers to benchmark audit fees among their company's peer group. According to CFO.com editorial director Tim Reason, several dozen reports have been sold in just three weeks—and if that rate continues then the tool could be a half-million dollar business. Based on this early success, Reason says the company is now considering a license model where audit firms would pay into the low six figures, depending on the type of data access they choose.
The data business is a new model for 400,000 controlled-circulation CFO and its Web counterpart, which attracts about 425,000 monthly uniques. "It's the first time, other than conferences, that we've asked our readers directly for money," says Reason."We think we're providing readers with value they should pay for, and that's a paradigm shift for us. Our readers are used to receiving information from CFO for free."
Reason hired a director of financial analysis and benchmarking, who reports to him, to handle the data collection. The $1,200 report price was calculated by factoring development costs—startup and ongoing—and by estimating the time it would take financial analysts to collect the publicly available data themselves.
To help facilitate the sale, the transaction is limited to one page and users are offered an immediate low-level teaser of their report so they can see its value. A blanked-out sample report is also provided before the sale is completed.
Reason points out that the report generator is strictly an edit tool that doesn't include sponsorships. He says he had banner ads stripped from the tool's landing page to avoid unintended associations between the tool and run-of-site advertising.
Data a Growing Trend Among Publishers
Data and reports have been a key opportunity for b-to-b publishers, which have historically excelled in market research. American Business Media recently announced that it has added the category, along with digital revenues, to its BIN reporting service to capture a more complete revenue picture of b-to-b publishing companies.
Underscoring the potential of data services, BIN numbers indicate that the category grew 6.7 percent in 2009 to $1.6 billion compared to 2008, while print revenues dropped 24 percent to $7.5 billion.
CFO was acquired in January from The Economist Group by Woburn, Massachusetts-based private equity firm Sequin Partners, LLC. The new ownership structure, says Reason, was a key enabler for getting the report tool developed and launched. 
Meet the Author
---