Catherine Sharick

Managing Editor, TIME.com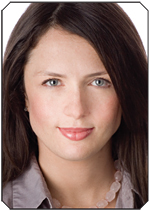 Since beginning with TIME.com in 2002, Sharick has been involved with the launch of the TIME archive, as well as helping to launch Newsfeed, Healthland, Moneyland, Swampland, Lightbox and other verticals.
Since her promotion from executive editor to managing editor of TIME.com this January, Catherine Sharick finds herself with a full task load. "Now I'm overseeing everything on the site: From product, to edit, to multimedia and mobile to the metric side. It's my whole gig," she says.
And a busy gig it is. In 2011, TIME.com saw its unique visitor counts increase 11 percent, fueled by three record-breaking traffic months (including May 2011, when news of Osama Bin Laden's death set the Web ablaze). TIME.com was also awarded the "Genius" rating by the L2 Think Tank for Innovation, the only site out of 87 consumer mag websites to earn the ranking. "For a print brand that's been around since 1923, that's pretty great," says Sharick.
TIME.com's success is no doubt fueled by its expanding social media presence. The brand has 3.2 million Twitter followers, as well as a continued partnership with Foursquare. The social check-in site will be integrated into TIME.com this fall through an exclusive partnership as Time covers the 2012 political conventions in Florida and North Carolina.
Beyond the accolades and social media push, Sharick explains cohesion in-house is one of her greatest accomplishments with TIME.com so far. "From when I started with TIME in 2002 to now, our print magazine writers' enthusiasm to write for the Web has grown. I've worked for a long time to integrate print and digital efforts with our staff, and it's now a very integrated place."
In 2012, Sharick says she will continue to focus on TIME.com's vertical content strategy (a new sports blog, Keeping Score, debuted in early March), as well expand the brand's photographic footprint.
"We have [photography blog] Lightbox, but we want the site to show off our photos even more," says Sharick. "We want to continue to be one of the leaders of photography in the world."
VITAL STATS: Under Sharick's tutelage, TIME.com saw an 11 percent increase in unique visitors in 2011. The site now has 3.2 million followers on Twitter.
Meet the Author
---