BusinessWeek.com Launches Lifestyle Channel

Content to offer 'smart ways for investors to spend their money.'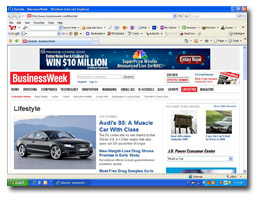 Three months ago—when BusinessWeek announced the magazine's first major redesign in four years—the magazine eliminated its "Executive Lifestyle" column as part of an effort to retrench its business coverage, and to reposition it against other weeklies and business magazines. Now, the magazine has announced that it has shifted its expanded lifestyle content to the new Lifestyle Channel at BusinessWeek.com.
"With the old 'Executive Life,' readers were never sure what they were going to find," BusinessWeek.com editor-in-chief John Byrne tells FOLIO:. "The Lifestyle Channel will be consistent. Readers will know how to find what they want every week."
Through articles, blogs and videos, the Lifestyle Channel covers a broader range of topics than the "Executive Lifestyle" column, Byrne says, like luxury real estate, automobiles, travel, style, wine, food and art. Each section contains lists, such as "China's Top Business Hotels" and "The World's Best-Selling Cars." Two of the channel's blogs are The Business of Luxury, which examines trends and tracks the most profitable luxury products and services companies, and Traveler's Check, which provides business travelers with information and advice.
"Just as our readers look to BusinessWeek's financial reporting for information on smart ways to make money, they can look to our lifestyle reporting for smart ways to spend that money," says Byrne.
The Lifestyle Channel will be managed by BusinessWeek.com's director of new products Charles Dubow. Prior to joining BusinessWeek, Dubow was founder and editor of Forbes.com's lifestyle section from 1997 to 2006.
BusinessWeek.com has also launched the Company Insight Center and the Managing Channel. With the addition of the Lifestyle Channel, Byrne says he has no intention of launching more channels this year. "We're hard at work on two primary goals: scaling the site and creating a deeper and far more meaningful level of engagement with our readers," he says. "This project—to more actively engage our users—is the single most exciting change that will occur at BusinessWeek.com since we launched in 1994."
Meet the Author
---