Building a Winner

The Economist Group publisher Paul Rossi explains how they do it.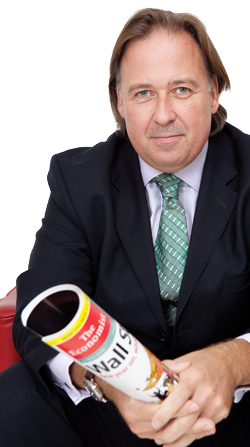 The Economist is somewhat of a maverick in the magazine world. Revenue is split 50/50 between circulation and advertising and at a time when many publishers are looking at circulation as an area to cut costs, it keeps investing. Catering to the "global reader," The Economist also conducts hyper-local marketing drives, including spending a reported $1 million on a push in Chicago and introducing a mobile delivery program in New York.
The Economist Group reported record operating profits of $92 million for the fiscal year ended March 31, up 26 percent over the previous fiscal year. Total revenue rose 17 percent to about $514.2 million. In July, The Economist Group acquired Washington, DC-based Congressional Quarterly from Florida's Times Publishing Company.
It's not all roses, though. Ad pages plummeted about 25 percent in the first half of 2009 and the company cut as many as 130 positions, reducing its global workforce to around 1,100. And while The Economist Group won't comment, many industry observers say the company is shopping CFO (with others saying CFO has seen revenue fall by as much as $20 million, forcing the company to pull it off the block).
Here, publisher Paul Rossi talks about The Economist's approach, in which "brand investment never fails."
FOLIO: The Economist has been held up as an example of a magazine that is bucking the trend of print decline experienced by many of your peers. What do you attribute this to?
Rossi: In terms of circulation, which is obviously the driver behind the question (as opposed to advertising, where everything is going down—we're just going down less quickly), it starts with having a product that people want. Over the last 10 years, particularly in the U.S., we've seen an increasing demand to understand the world. Week in, week out, The Economist delivers opinion and analysis of what's going on. That's coupled with the strategic thought that there was a much bigger opportunity in this market than we previously realized. We've done a lot of work around market sizing, looking at current readers and how many more were out there. We came to the conclusion that there was a bigger market than we were reaching and that this was a marketing problem rather than a product problem. We aggressively promoted The Economist and spent a lot of time and money building the brand. Partly this is a product whose time is right but also we committed the resources and energy to making it bigger.
FOLIO: Please describe how The Economist has defined its market position relative to its peers.
Rossi: This is a difficult market for everybody. We start with the reader first. We have a business model built around the reader first. It's about positioning products as premium and backing that up with everything you do, and being able to market it. Our newsstand and subscription prices [$6.99 for newsstand, $67.25 for a 25-issue subscription] are clearly different from other magazines in this space.
FOLIO: Talk about the editorial mission of the magazine and how that has adapted. How have you maintained the editorial standard through changes in editorial leadership?
Rossi: We write one edit product for the world. The one in the U.S. is the same as the one in China. We're still socially liberal, fiscally conservative and live to our mission, which is written in every issue: "To take part in a severe contest between intelligence which presses forward and unworthy, tumid ignorance obstructing progress."
What that means, in slightly less Victorian English, is we debate what moves the world forward. A lot of people at The Economist think we're caretaking for the next generation who will take over business. This is something with a clear personality.
FOLIO: At a time when most publishers are integrating their print and editorial operations, The Economist maintains separate publishers for print and Economist.com. Why is that?
Rossi: We run online editorial as one group and in commercial terms we run subscription marketing and ad sales for print and digital as one integrated group. But what makes it different is having an online publisher and that's about how we develop the site and develop the audience. Economist.com is the place people can go for intelligent debate. We do all production out of London. The majority of the business is integrated. The approach is, editorially one and commercially largely one, so as an advertiser you wouldn't know. This idea of how you move that debate online, we build that around one platform. However, technology development is easier to do with one person focused on it.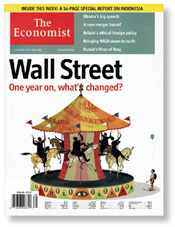 FOLIO: Please talk about the circulation strategy in the U.S. How are you building your audience? What is the newsstand distribution?
Rossi: It starts with identifying the reader. We do a lot of profiling. Many of our readers lived or worked or were born overseas. There are different ways of reaching these people rather than just buying a list from another magazine. We build a picture that can take us inside other places. For example, The Economist is sold in CostCo. On the face of it, that's not logical but CostCo is actually one of our better sell-through venues. We don't go into every single CostCo, we go to the ones in zip codes where we are most likely to find our readers. By pushing our understanding of our readers, we can go out and find them.
Innovation is also part of the strategy. With Economist Direct, you can get a text message on Thursday, respond by mobile and get a copy delivered to your doorstep by 9:00 the next morning. That's all about pushing out people's ability to get their hands on a copy. Layered on top of all that is building the brand. We had relatively low brand awareness in the U.S. 10 years ago and we spent a lot of time and money building a brand. With the city campaigns we saturate a city for six to eight weeks. The investment in brand softens the ground for understanding what they want and need from us.
FOLIO: Explain the structure of the circulation and marketing department. How does this work?
Rossi: We have a marketing team whose job is acquisition and retention and we have a newsstand and retail team as well. We manage the brand completely separately. Brand investment stays the same no matter what happens. We don't manage the brand up and down depending on the business. We invest in the brand year round. 
FOLIO: Explain the market-focus approach.
Rossi: It says, let's identify cities where we effectively index below where we should be against competitors and our target audience. Sometimes it's about distribution, we may not have enough copies in the market.
A campaign will consist of outdoor, radio and events. We do things you normally wouldn't expect from The Economist because we know that's where our audience is, such as tie-ins with the Second City comedy troupe around the presidential election. We will go into a region and market heavily for six to eight weeks and measure things like sell rates and copy sales, renewal rates, new business, cancellations.
It's a process of doing branding and building the business city-by-city, step-by-step, rather than trying to do it all at once with a national campaign.
FOLIO: At a time when publishers are cutting circulation costs, how is it that you keep investing?
Rossi: Because we can. That model allows us to do that. We can look at acquiring a customer as a profitable experience and adding profitable customers is something we can keep doing. It's self-funding to a certain degree. We're always testing and there are certain elements that bomb but en masse you hope it's moving forward. We know there's opportunity, we know we can make money in the long run.
FOLIO: What is the profitability ratio for recruiting a subscriber?
Rossi: I'm not going to share the number but we have a point at which someone is profitable and there are ways we can test that. We can look at each channel and say, 'People who come through the Web will pay this or people who come through direct mail or e-mail will pay that.' Everything has a different point at which it's profitable because the costs are all different. Some might be slightly higher at the front end but those people tend to stay with us longer. You can also look at revenue per customer—we have a lot of customers who give gift subscriptions. There are a number of different metrics you can layer in beyond direct mail or e-mail.  
FOLIO: The Economist seems to be focused on what you do well: print, increasingly online. How do ancillaries fit in and what are you doing beyond traditional print and online products?
Rossi: We've got products that fill a reader need. The Economist is available on the Kindle. We have an iPhone app coming out shortly. Then we've got other products within The Economist brand such as the Business Intelligence Unit, which provides data and analysis for companies operating beyond their domestic boundaries. That's something very granular and b-to-b; it is largely subscription-driven. That business is not quite as up and down as advertising.
We do a number of things with advertisers, such as EnergyBill, an online simulation we built for Chevron. Using our data you can power a city of the future and make choices about different energy sources. We have events and they're very much about building the brand, bringing The Economist to life. We're also testing a new quarterly magazine called Intelligent Life, which has been described as "The Economist in black tie." It's much more lifestyle-driven.
Ultimately everything has to be run for profit. Some things will be about broadening the brand and getting the product into people's hands. You need to be pushing stuff out, so some things work, some don't (particularly on the events side) but we're trying to bring more people into the brand.
FOLIO: How do the business lines compare in size?
Rossi: The biggest driver is the magazine and that's equally balanced between advertising and circulation. Online and data businesses are second and third, the others are all quite small.
FOLIO: PIB numbers say you're down 23 percent in ad pages for the first half of 2009. How accurate is that?
 
Rossi: The PIB numbers are close. We're not a discounter so the numbers are pretty accurate. It's a tough market and we're not immune. You have to be clear about what problem you're trying to solve for a marketer. The days of walking in and asking how many pages would you like to buy are gone. They're not advertisers, they're marketers who happen to do advertising and they're facing the same challenges we are in terms of smaller budgets and ROI. We're seeing a lot of demands for intergrated programs that move from print to online to white papers and events. We just built a forecasting tool for SAP where people could demonstrate how bullish they were about their industry and compare that to everyone else. That's a data solution, it's an advertising solution and it's an online solution.
FOLIO: You just added Congressional Quarterly and you're said to be shopping CFO. What's the ideal product mix for The Economist?
Rossi: We are profitable and we have a desire to grow. You should look out for future changes and future acquisitions in The Economist Group. What you're seeing is a move toward subscription-based business. These are good, renewable revenue streams.
SIDEBAR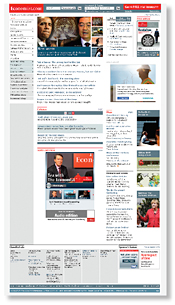 The Way of Economist.com
Publisher Ben Edwards reveals new priorities for online.
While Paul Rossi serves as publisher of the print version of The Economist, executive vice president Ben Edwards is publisher of Economist.com, overseeing a group that handles online product development, Web development, design, marketing, production and operation. "We build the platform—Web publishing, community and advertising," says Edwards. "Then we work closely with editorial and the ad sales teams who are integrated into the regional businesses."
Economist.com uses four distinct sales teams serving the U.S., U.K., Asia and Central Europe. "The approach differs by region and in the U.S. the approach is quite heavily integrated," says Edwards. "In the U.K., we're less integrated and we may be lagging behind U.S. buying habits by a year or two. But in the past six or nine months, we've been seeing more appetite from European clients for large, integrated purchases."
Traffic has doubled in the last two years with 4 million unique users and 25 million page views. One-third of the online audience is also a print subscriber while another 15 percent is an occasional newsstand purchaser.
It's an engaged audience. Economist.com gets 25,000 comments to the Web site every month with an average of 60 comments for every article it publishes, according to Edwards.
Big Changes: New Brand, New Social Media Initiatives
Economist.com is preparing to make significant changes to its brand strategy. "Up to this point we've invested in a separate brand," says Edwards. "We're changing that in the next month or two to publish under The Economist brand. That reflects the reality of how people think about us."
Three years ago, Economist.com embarked on an ambitious, proprietary social media project called Project Red Stripe that basically fizzled in 2007 without a concrete product. At the time, Economist executives said there wasn't a clear need for the product.
Today the brand is investing in developing a sophisticated presence on Facebook (150,000 fans) and Twitter (75,000 followers). "We have a loose embrace of many other unofficial sites," says Edwards. "It's a very cost-effective way to reach out to people where they live on the Web and give them opportunities to interact with content, events and each other."
Still, The Economist continues to invest in a social media product as one of its key online initiatives. "We're building off of our work with Project Red Stripe," says Edwards. "Fifteen months ago, we made the decision to move off a proprietary platform to an open source platform, which in our case is Drupal. The principal reason was the richness of the existing Drupal social media features and the ability for us to engage with a relatively small and focused group of designers."
Economist.com is introducing several new online products in the second half of 2009, including a two-week long debate program featuring experts and guest speakers.
Over the next few months, Economist.com will also roll out profile pages, organic groups and forums. "We think there's an opportunity to take the debate product and build a mini debate product around it—instant debates our editors can set up on the fly that put a little structure and meaning to the outcome through built-in polls and real-time voting," says Edwards. "That gives people a sense of what other people think about it, which is important to our audience."
Economist.com is also launching 11 online channels dealing with different areas (Europe, the U.S.) and topics  (such as business and finance). Each channel will have full-time dedicated online editor. "Their design is to build this lean-forward, free experience" says Edwards.
The two approaches work together, according to Edwards. "The way I think about how we can build opportunities versus reaching out and embracing interactions among Economist readers is with the former we can offer richer, deeper and more meaningful interactions," he says.  "If you look at what goes on through Facebook the interactions tend to be very light. By contrast, we've developed online debates where people are posting 1,000-word essays. These debates generate about a novel's worth of content. The two approaches are complementary. We can build rich connections and we can harness lighter conversations and connections through sites like Facebook to build bridges between different experiences."
Making Money Online: Balancing Advertising and Paid Content
Revenue for Economist.com grew about 30 percent in 2008 and is up about 20 percent in 2009, according to Edwards.  "Advertising is performing well and we're growing fairly strong this year in the face of declines in premium display," he says. "We think the product is high value and we charge a lot of money relative to our peer group."
Economist.com is also having some success with a paid content model at its site and is looking to extend that approach into other digital venues. "We have a long history of subscription succes and we would like to develop that further," says Edwards. "Offline, our premium product is the magazine and we characterize that experience as 'lean back.' In electronic media, it's more about 'lean forward.' We've been the number one magazine on Kindle and we're priced at five times that of our competitors on Kindle. We're pursuing devices and opportunities to deliver that 'lean back' experience electronically and we think there's an opportunity rising now to deliver that experience online through the browser."
Sill, advertising accounts for more than 90 percent of Economist.com's revenue and Edwards says the goal is to move toward a more balanced ratio with subscriptions and paid content.
"We believe we can grow both revenue streams," he adds. "The way we do it is to differentiate between the lean-back experience online and a separate, free, advertiser-supported experience, which is more lean forward because it is social and interactive and looking to include things rather than exclude them. That's part of the live Web. You're linking to other sources and inviting other experts to share opinions."
Meet the Author
---