Building a Business Intelligence Group

A shift in service.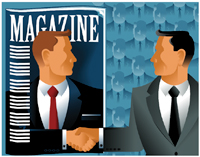 If "platform agnostic" was the dominant publishing catch phrase of the last five years, "business intelligence" could dominate the next few as publishers move beyond core publishing duties (such as generating content and selling advertising) to offer more agency-like services, including on-demand research, marketing services and market analysis.
But simply throwing those responsibilities at existing staff could do more harm than good. "Where things can go sideways is if you just keeping adding more services and pricing it in with the products that they support," says Ziff Davis Enterprise CEO Steve Weitzner. "That's a pitfall for most publishers moving into this business."
Building Off Existing Services
In December, ZDE launched an enhanced bundle of audience engagement programs which are offered in three main pieces: market intelligence, integrated programs and marketing services.
"Market intelligence merges the research team together with market experts and market strategists," says Josh Heitsenrether, senior vice president of strategic services. "We've merged the two together to field larger studies of the database, larger studies of the market and combine all of that with 'feet on the street' kind of insights rolled into one package that serve longer term relationships that are independent of an advertising campaign with us." 
The second piece is a wide grouping of marketing services. "We have the ability to offer content services and analysis and we have analysts who can offer lead modeling and scoring, and roadmaps for how to take leads down the sales path," says Heitsenrether.
Integrated programs offer direct execution services for clients. "As resources become more challenging on the customer side, we've been able to step up with planning and execution of very complicated integrated marketing campaigns," says Heitsenrether.
All three parts build off services that ZDE offered before (in some cases, even before its spin-off from Ziff Davis). "For some time before I got here, the enterprise was involved in variety of demand generation programs," says Weitzner. "The outcome of that was you're dealing more deeply with the client and they start asking for other things, which could range from people saying 'my budget has been cut severely can you take over this function' to becoming an actual marketing department for a client."
In once case, ZDE was engaged by a vendor to conduct a sales training and market analysis program which involved doing primary market research and then creating sales training materials, conducting the training and assessing the client's sellers. "There was no public face to it, this was all done within the client," says Heitsenrether.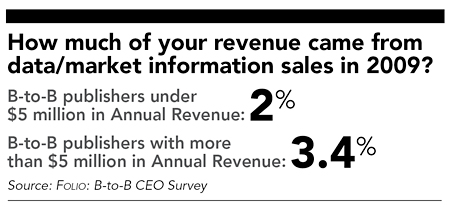 Pricing ranges greatly. Enhanced services around lead generation might mean simply a higher cost per lead, while virtual marketing might include a monthly retainer and specific fees on deliverables. "Our base of unbundled services is a relatively small part of total revenue but growing rapidly," says Heitsenrether.
Building these services included hiring people with backgrounds outside of media. "We have to rethink the model right down to the two basic pillars of the publishing business: employees and content," says Weitzner. "Although everyone has gotten past circulation as the model to audience development, you have to take another step to audience marketing. One of the basic ingredients in engaging the audience beyond simply looking at a Web site or reading an article in a magazine is a 360 degree view of how we touch these people. We need people who are experts not just in content or in a specific content domain but how the audience consumes content and what it requires to attract them and keep them there."
ALM Extends Research Arm
Six years ago, ALM started its research business by taking stock of the content it had. "We realized there's tremendous value in looking at year-over-year comparisons in the data but this was too much information for an article in print or online," says Kevin Iredell, head of ALM's Legal Business Solutions Division. "The decision was made that we're sitting on all this data, let's do something with it."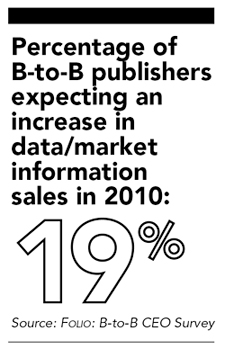 ALM began by simply putting the data in one place and making it searchable. Data today is available in two ways: by subscription (typically to law firm librarians) and by selling individual datapoints on a transactional basis. "This may include tech vendors selling to law firms—every couple years they will purchase the ALM 100 list to help set up sales territories," says Iredell. 
More than 90 percent of the top 100 law firms are subscribers, while individual transactions number in the thousands each year, according to Iredell.
Content Audit
ALM originally looked at all content the same way but recently split it between "business of law" and "substantive law" which includes cases, codes and treatises. While ALM initially just licensed the content to outside resources such as Lexis Nexis, it needed a better sense of what it had to start selling directly to clients. 
"The first step was having our licensing experts look at the content and decide what was valuable to individual users," says Iredell. "We basically did a content audit. We didn't have in-house expertise for the database portion and we worked with an outside firm to build the infrastructure around that."
Today there are two separate groups within ALM Legal Business Solutions—one that handles licensing while the other offers business intelligence, which could include fielding a compensation report of 15 different legal positions. "A lot of the requests we get are, 'How does that compare over time?" says Iredell. "One of our content managers will build a compensation benchmarking tool that goes back five or 10 years."
The licensing group has about six staffers compared to about a dozen in the legal intelligence group. "We have content managers and database managers, a dedicated sales staff that sells it separate from the circulation department (who used to do it), and telemarketers sell the transactional business," says Iredell.
Three-Tiered Pricing
Subscriptions are offered at three levels: a base level providing access to all of the current year's content  for $5,000 per year for the first user, with additional users paying 10 percent of that. The premium subscription offers current content plus archives for $12,000 for the first user. ALM has also introduced Premium Plus, which includes Benchmarking information and additional surveys such as the Survey of Welfare Economics, and Law Department Metric Survey, at $15,000 for the first user. Transactional fees range from $199 up to $1,200.
"We're doing more custom surveys and we're ramping up to answer more questions around custom research," says Iredell. "There's a lot of need for, 'yeah, I get benchmarking data, what about MY firm.' We don't want to be consultants but we do want to be partners."
While Iredell wouldn't share specific revenue figures, he said the Legal Business Solutions group was up slightly over 2008. "We sit astride the wall—part of what we do is edit, part of it is business-side," says Iredell. "The challenge has been getting both the editors and the business side to trust in the process."
Meet the Author
---