Bryan Monroe

VP/Editorial Director, Ebony and Jet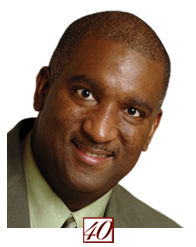 As president of the National Association of Black Journalists (NABJ), Bryan Monroe was the first national voice to call for the firing of Don Imus when the CBS Radio talk show host made his incendiary racial remarks about the Rutgers University women's basketball team.
The day after Imus' notorious words were spoken, NABJ issued a statement that led to what Monroe calls a "pathetic apology" from Imus a few hours later. NABJ followed with another statement after that, stating that the two-line apology was too little too late and that CBS still needed to fire him, MSNBC (which simulcast the show) should cut its ties, and advertisers should reconsider their association with the broadcast. On Easter Sunday, Monroe dropped his family off at church and did a radio interview from his car, reiterating the significance of the matter.
"In media, we have a responsibility to lead," he says. "Free speech is important but there's responsibility that comes with that. There are consequences to what you say."
As vice president and editorial director of Ebony and Jet, Monroe says he took this as an opportunity to lift the level of conversation to focus on the larger issue—the culture of disrespect. Forty pages of Ebony's July issue last year were devoted to an honest examination of race and the destructive or constructive effect of language on black culture, he says. The cover consisted of white type—with the words "Who You Callin' A…"—on a black background, without the usual celebrity. Monroe then followed up on these concerns a few months later when he declared in his editor's letter that the "N" word would not be used in Ebony or Jet unless it was absolutely critical to the story and only if he signed off on it. This letter ran in the same issue that presidential candidate and Senator Barak Obama appeared on the cover with his wife Michelle.
VITAL STATS: Monroe led the charge against radio talk show host Don Imus that eventually led to Imus' firing after he made his notorious remarks about a women's college basketball team.
Meet the Author
---