Bradford McKee

Editor-In-Chief, Landscape Architecture Magazine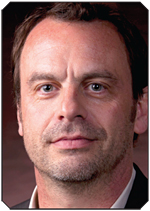 McKee has overhauled the 102-year-old association magazine with a focus on robust reporting and the broader issues in the landscape architecture market.
Taking the helm of a magazine that's more than a century old is a daunting task in and of itself. But for Bradford McKee, who landed in the top editor spot for Landscape Architecture, the main member benefit for The American Society of Landscape Architects, there were immediate issues that needed addressing. The magazine needed a top-to-bottom redesign and it was losing its connection with the broader landscape architecture community.
McKee joined the magazine just six months before its 100th anniversary issue and he convinced the association's board to fast-track a redesign. "I said let's not just refresh it, let's tear the whole thing down and start over with a new design," he says. "The subject and concerns of landscape architecture have multiplied so greatly at all kinds of scales that I felt like the magazine was in need of a new framework to look at the incredible eclectic variety of things that landscape architects do. The magazine was kind of a muddle. It was a tweaked out version of itself 15 years ago, which was a nice design, but I wanted to bring more youth and vigor into it."
After an RFP process, McKee selected the design firm Design Army for the redesign and managed to keep project costs in the low five-digits, which was a major factor in convincing the board for the redesign in the first place.
From there, McKee began hiring prominent writers to reinvigorate the magazine's content. Anne Raver, who handled garden reporting for The New York Times was brought on board and McKee also hired Slate's Constance Casey to pen a column on garden critters—from beavers to fungi. "I wanted to look much more at the edges of the profession," says McKee, "the outliers who are doing innovative and challenging work."
VITAL STATS: After a redesign and content overhaul, Landscape Architecture Magazine achieved a 25 percent uptick in newsstand sales and has seen a 14 percent increase in ad sales.
Meet the Author
---