Bradford Fayfield

Founder, Storm Mountain Publishing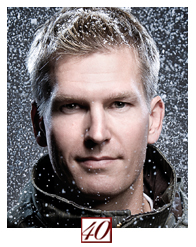 He talks about snow like other magazine publishers talk
about money. Yet Brad Fayfield, founder of Boulder, Colorado-based Storm
Mountain publishing, has rather quietly built a 10-year-old, money-making
business in a relatively crowded magazine space through launches, innovation
and strategic acquisition.
Fayfield launched Freeskier in 1998, betting that young skiers with a
snowboarding mentality would revolutionize and rattle the traditional skiing
market. Luckily for him, they did.
Largely eschewing the newsstand and
subscription model of larger, more established players, he distributed
Freeskier free in ski shops, appeasing advertisers at the point of sale. (The magazine
has a circulation of 80,000 split between newsstand, subscription and the shop
program.) In 2003, the company became profitable. In 2006, Fayfield acquired
like-minded but struggling Snowboard.
With a young, increasingly wired demographic, both Snowboard
and Freeskier have carved out significant digital space. Freeskier produces a
video podcast that is downloaded, on average, 250,000 times a month on
iTunes-attracting non-endemic advertisers like Nike and Jeep-and offers a free
digital edition of its magazine via its Web site, which recently relaunched
with a heavy social networking component. Freeskier's Facebook-style
application now has roughly 20,000 registered users-not too bad, considering
the site averages 100,000 unique visitors and 1.5 million page views per month.
All of this has led to steady revenue growth for Fayfield (a
former member of the U.S. Ski Team), who says the company's revenues have grown
some 120 percent in the past three years, with an operating margin of about 20
percent. "My goal is for us to be a $10 million company in three years," says
Fayfield. "And it's not an unrealistic goal."
VITAL STATS: Freeskier's popular video podcast series
averages 250,000 downloads per month on iTunes—volume that has attracted
non-endemic advertisers like Jeep and Nike.
Meet the Author
---