Bonnier Redesigns Skiing

New 'photography-driven' look features larger trim size.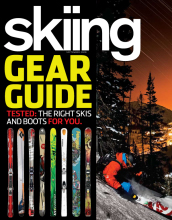 Bonnier Corporation has redesigned Skiing magazine and increased its trim size effective with the September issue.
"The purpose of the redesign was to make [Skiing] a more targeted magazine, a bigger magazine and to service the readers better," a spokesperson wrote in an e-mail to FOLIO:. With a trim size of 8-1/2" x 10-7/8, Skiing post-redesign is nearly a half-inch taller and about an inch wider.
Bonnier calls it a "photo-driven" redesign, and now will print the magazine on heavier 40-pound grade four paper. "We've had great photography for years," editor Jake Bogoch said in a statement. "But with the larger trim size, we decided to let the photos breathe. The magazine is streamlines and sleek, so we can do more with less. There's absolutely no excuse to wreck beautiful photography with clutter."
According to the most recent Audit Bureau of Circulation figures, Skiing's newsstand sales jumped 32.1 percent over the first half of 2008. Ad pages, however, fell 9.5 percent during the period, according to the Publishers Information Bureau.
Skiing, which is published six times per year, is part of Bonnier's Mountain Sports Media group, which also publishes Ski magazine and the SkiNet Web site. Bonnier does not have plans to redesign Ski, the spokesperson says.
Meet the Author
---