Bonnier to Make Magazine Content Available Via Smart TV Apps

Partnership with Flingo ports video content to more than 15 million devices.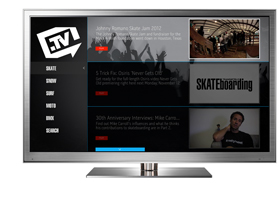 With the rise of internet-connected televisions, the big screen is becoming another place for publishers to get their content in front of viewers. One recent example of this is a partnership between Bonnier Corp. and smart TV app maker Flingo.
The plan is to provide video content that Bonnier is already producing for its brands to Flingo, which will optimize the content for an app interface available through smart TVs and streaming devices, such as a Roku box or TiVo.
The concept is similar to the streaming experience on tablets in the sense that viewers can search through Roku's app store or Samsung's Marketplace, for example, select an app and download it to the device. "And then every time you turn on your TV that channel is now in your portfolio of apps," says Sean Holzman, Bonnier's chief brand development officer.
With the limited functionality of smart TV interfaces, video content is programmed in a seamless manner, eliminating the need to return to a menu of programming options when one episode concludes. "When you're playing the videos, they're stitched together which provides a great lean-back experience," says Holzman.
Bonnier currently has 14 apps in the works with some already live—content is pulled from an existing library, the company is not creating new content specifically for this platform. Lead brands include Popular Science, Parenting, Field & Stream, TransWorld and Warren Miller.
The content and apps are free, supported by advertising. The programs feature pre-roll advertising and mid-roll if they're longer. "This gives us the opportunity to work with advertisers on a brand new platform," adds Holzman.
Meet the Author
---