Bonnier CEO: 'Talk About the Minnow Swallowing the Whale'

Terry Snow recounts the bootstrapping rise of World Publications.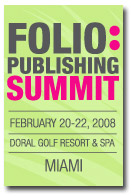 MIAMI—The boostrapping magazine startup story has attained mythic status among the publishing community—young entrepreneurs launching a self-financed title out of the back of a van with little more than a passion for a market. And Terry Snow, CEO of Bonnier Corp., knows all about it, because he did it. He launched his first magazine, Waterskiing, from the back of his root-beer-brown van in 1978, selling subscriptions at tournaments. Since then, the company has grown from $1 million in revenues to private equity ownership to a merger with Bonnier Corp., which ultimately triggered the acquisition of the venerable Time4 Media properties for about $225 million.
Indeed, the Time4 acquisition gave way to arguably the company's
biggest challenge, which has since settled down some—integrating a
42-title operation with 1,000 employees in 14 locations across the
country. "The most challenging thing was marrying a big company with a
little company and not lose people in the process," said Snow. "I think
everybody [at Time4] hated it. I don't think seasoned New York
publishers like to hear that people outside New York thought they could
do things better."
SIMPLER TIMES 
But in the beginning, times were simpler. "That was back in the days when you could generate subscriptions from ads in other magazines," Snow told attendees during his keynote at the 2008 FOLIO: Publishing Summit. Indeed, and tour the country for six months, selling subs at waterskiing tournaments. But fun is fun, and Snow quickly realized that success doesn't necessarily stop at one or two titles and modest revenues, especially if growth becomes a priority. "For the most part in the 80s, we were trying to have fun and not go too far into debt, we were isolated from big publishing," he said.
A visit with John Suhler, a founding general partner and president of investment firm Veronis Suhler Stevenson, quickly changed the company's outlook. "He challenged us to be more aggressive," said Snow. After several acquisitions and launches, the company grew to about $20 million by the end of the 90s.
In 2000, the purchase of Saveur and Garden Design, both titles published out of New York, dramatically changed the makeup of World Publications. At this point, the company became a $40 million operation, said Snow, and had officially joined the New York scene, with offices in Florida and Manhattan. It was also a stressful time. "We were publishing in two offices and in a category that was competing with much larger brands. It was a difficult time for the company."
But World kept growing. In 2001, the company was undercapitalized and a minority stake from private equity firm Boston Ventures relieved the pressure and ushered in another era of acquisitions. By 2004, Snow had made about six more deals and, with the help of BV, doubled the size of the company to $85 million.
THE SWEDES
In 2005, Boston Ventures wanted to exit, and that's when Swedish publisher Bonnier came knocking. "There were not too many strategics around," said Snow. "But I had met Jonas Bonnier in 2005 at an MPA meeting. They were looking for a platform to enter the U.S. and wanted to be below the radar."
In 2006, Bonnier made a sizeable, but minority investment in World, with a 10-year goal of growing it to $250 million. That came quicker than anticipated. The Time4 Media properties, 18 in all, became available and Bonnier/World was the winning bidder. "Talk about the minnow swallowing the whale," said Snow, "an $85 million company buying a $225 million company."
Meet the Author
---