Billboard to Launch Country Music "Mini-Magazine"

Product to be sold exclusively at Target for $4.99.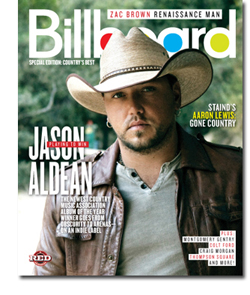 Billboard is set to launch a country music "mini-magazine" in partnership with 'stache Media, a marketing agency specialized in music. The 48-page issue, packaged with a sampler CD, will be sold exclusively through Target—in the music section of the store and on its website—with a cover price of $4.99, beginning December 27.
For now, the publication—with a distribution of 30,000—is a "launch" product, with no editorial calendar, but Billboard senior marketing director Lila Gerson says the magazine is in talks to produce more in other genres.
"Country music is extremely important to the Billboard brand, so we were excited to partner with 'stache Media on this mini-magazine because it is focused on country music and is a natural extension of Billboard's coverage of this genre such as Billboard's country charts and The 615 blog," says Gerson.
Under the terms of the partnership, Billboard provides the content and "brand power," while 'stach—which, according to Gerson, approached Billboard for the initiative—produces and distributes the magazine, works closely with Target, secures the music for the CD through its relationships with the record labels involved and promotes the product through TV and online advertising as well as social media.
The mini-mag aims to have collectible appeal, as it offers two different covers, respectively featuring country music artists Jason Aldean and The Zac Brown Band.
Other magazines to partner with 'stache include music titles SPIN, Alternative Press and Revolver.
Meet the Author
---