Bicycling Mag Steps Up Content Strategy for Tour de France Coverage

In the past, event coverage has contributed a 50 percent bump in Web traffic.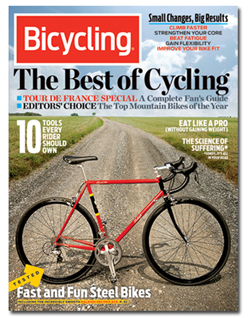 The 2012 Tour de France is a sporting event that cyclists and enthusiasts around the globe look forward to. Bicycling, a Rodale title, has this international event on its radar throughout the year and it uses it to increase Web traffic, reach new audiences, enhance social engagement and drive sales in print and digitally.
"For cyclists, this is like having the Super Bowl everyday for 23 days in a row," says Peter Flax, Bicycling's editor-in-chief. "We know from past experiences that this is the biggest event of the year for people that are interested in cycling, or new to following the sport. Online, we might get a 50 percent bump in traffic when compared to the rest of the year."
Casual fans that may not regularly follow cycling, says Flax, read and engage with coverage of the Tour de France produced by Bicycling and its online properties. In order to capitalize on that enthusiasm, Bicycling creates content for casual readers in addition to producing more niche news and information that focuses its attention on regular readers interested in the Tour and other cycling activities.
"I think with the Tour de France, we're probably going to get more new potential customers digitally and hope to make them print customers in the future," he says. "The new customers we get on newsstands, we're hoping to entice them to come to other platforms and experience the Tour in real time, too. The print issue tends to be a strong issue with advertisers because not only will more people buy it on the newsstand, but because of the Tour package, they'll return to it all month as a reference, piece readers spend more time with this issue.
In anticipation of increased Web traffic, Bicycling.com will have a variety of messaging online to promote the print magazine in addition to promotions for apparel and books. "These are added services we can offer people that are not too obtrusive or annoying but will be part of the experience," says Flax.
The magazine has worked to develop a special interest photography publication about the Tour de France that is available on the iPad only, for $1.99. It features 45 pictures of the Tour from photographer and longtime Bicycling contributor James Startt, who has covered the last 23 events. The publication is working with Apple on a promotional schedule to highlight the magazine during the right time of the race.
The editorial plan for coverage of the Tour de France never really begins or ends for Bicycling. On June 27, Flax was hosting editorial meetings to plan for the 2013 coverage, though the 2012 Tour de France has not yet taken place. Often, says Flax, the publication tries to be 12 to 13 months ahead of the Tour de France coverage, which helps to plan social initiatives, digital editions, special interest publications and overall content strategy since this issue (pictured) is normally one of the title's biggest in terms of pages.
"This is one of these rare cases that, in terms of resources and assets, we can do much more," says Flax when asked how his publication can compete with international news organizations that will also be covering the race. "The New York Times might have one or two people in France covering this race. At certain points during the Tour, we'll have eight to 10 people on the ground, multiple videographers and photographers, writers, editors and others. The depth of content that we create and publish on multiple platforms is just greater than any general interest, big media brand is aspiring to do during the Tour."
Bicycling will be promoting all of its products to audiences on social media and will encourage audiences to cycle everyday of the Tour de France. Using the hashtag #RideStreak, readers will be encouraged to share each time they ride, post stories about their ride, upload photos from their ride route and share GPS and performance data.
In addition to its iPad special interest publication, print magazine and digital version, former professional cyclist and television commentator Frankie Andreu will work with Bicycling to produce a series of professional videos for Bicycling.com. The changing media landscape, says Flax, will help the publication drive traffic.
"The way that people consume information about the Tour has really changed," he says. "In the past, people weren't able to watch the Tour during the day. Now it's easy to pull up a video player on your computer at work. We've been lucky to be ahead of the curve—we're attracting people with analysis, commentary and color. When you come to Bicycling.com during the Tour, there's going to be new video content posted in the morning before people in New York wake up. In a sense, we're almost migrating to do television like coverage of the Tour. For editors and brand managers at other organizations—look at these transformational moments as opportunities rather than threats. You can evolve to give something exciting to your readers, and give you a competitive advantage over other brands."
Meet the Author
---