Better Lists, Better CPMs

How one content publisher boosted rates by enhancing subscriber data.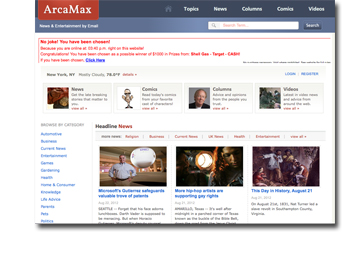 The current focus on targeted marketing and audience segmentation has taken us a long way from the "batch and blast" days of email marketing. Advertisers, especially with digital media, want a targeted approach, and will pay for it. At consumer email newsletter publisher ArcaMax, a partnership with list management and lead-gen service provider MarketFish has helped it overcome its audience data limits and charge higher CPMs.
ArcaMax, which freely distributes syndicated content—comics, advice columns, news and other features—via email to about 1.5 million unique subscribers, was struggling to find a way to segment its audience to provide more efficient, higher yield ad buys for its clients. The segmentation data, however, proved too elusive. "Our model is predicated on getting people on email lists and having them open them every day," says ArcaMax CEO Scott Wolf. "We have fabulous open rates and great engagement, but they may not tell us, just to get a comic strip, about their household incomes, political beliefs and how many children they have."
Attempts at getting the additional data through registration popups, acquisition campaigns and a sweepstakes all proved ineffective. "We never got any kind of scale in terms of getting that kind of data, there was just too much friction," adds Wolf.
Instead, ArcaMax turned to MarketFish to enhance its customer file with a variety of offline databases and bolster it with the selects that advertisers were looking for. "It suddenly put our subscriber base in play," says Wolf. "Through their platform, we've had buys from agencies and advertisers that we would never have gotten before."
Wolf says he's been able to reject advertisers that come through and that after a year using the service, CPMs are double what he was able to get in-house. "To some extent, it's comparing apples to oranges—they're selling targeted selects of our database, compared to our in-house list going to millions—but they deploy the email, the creative is put together on the advertiser's end and they handle the suppression. From our standpoint, all the revenue is incremental."
So while ArcaMax still leverages its full database for advertisers looking for broad buys, its targeted campaigns are handled by a third party, making the smaller 50,000-customer segment buys more efficiently handled.
Meet the Author
---