Newspaper Magazine Files for Bankruptcy

According to petition, beleaguered RiseUp can't pay its creditors.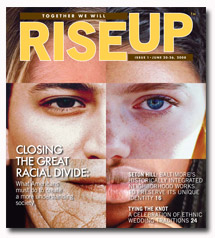 The owners of RiseUp—a four million-circulation weekly newspaper magazine that quietly launched last June only to fold two months later—have filed for Chapter 7 bankruptcy protection.
According to the petition, filed this week in Missouri bankruptcy court, RiseUp and parent Ellis Management Marketing Group carried liabilities between $1 million and $10 million and assets of less than $50,000, the Kansas City Star reported.
"The print version of RiseUp magazine has suffered the same challenges as much of the newspaper industry," RiseUp co-founder and EMMG president and CEO Janice Ellis wrote in a statement e-mailed to FOLIO:. "We have been struggling the last several months to improve the financial condition of the company, but economic circumstances have made it tough to generate the necessary revenues to continue operations. We did everything we could to resume publishing the print version."
The Chapter 7 petition said RiseUp has fewer than 50 creditors and there will be no funds available for unsecured creditors, the Star reported.
Distributed inside major newspapers across the country, RiseUp launched last summer with the mission to "provide an ongoing conversation for all races and ethnicities to better understand each other and to build stronger communities, cities, nations and a better world," Ellis said at the time.
In March, RiseUp and EMMG were sued by the Star for $2.2 million in unpaid printing and distribution fees, as well as interest and legal fees. In December, the Los Angeles Newspaper Group filed a breach of contract suit against RiseUp, alleging the magazine owed it $93,306 for unspecified goods and services.
"An ongoing conversation about race is still very much needed," Ellis said. "This is a very sad day for all of us."
Meet the Author
---