'The Beginning of a New Company' for Cygnus

A Q+A with newly-appointed CEO John French.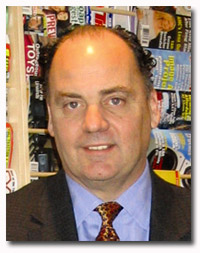 John French joined Penton Media in 2006 following its acquisition by Prism Business Media. He resigned as CEO in July 2008.
Now, French [pictured] has been named chief executive at fellow trade publisher Cygnus Business Media, a company that emerged from bankruptcy protection this week. Cygnus said it expects revenue to fall by $35 million to $71.4 million this year.
FOLIO: caught up with French to discuss why he took the job and what he sees as his biggest challenges in turning the company around.
FOLIO:: Cygnus, like many other b-to-b publishers, has experienced a tough 2009, with revenues expected to fall to $71.4 million, compared to $107 million last year. According to the bankruptcy documents, Cygnus forecasts revenue will be $75.5 million in 2013. Do you think that's reasonable? How do you expect to turn the company around?
French: Generally, Cygnus Business Media has performed the same way as other b-to-b companies. Our declines have kept pace with our industry peers. In fact, we have even fared better than some, but I'm not happy with any declines and have several initiatives in digital, tradeshows, data and even print that we are very excited about implementing. Staff has worked aggressively and a large percentage of our media has remained number one in their markets even today.
FOLIO:: The documents also indicate the print revenue is forecast to make up 49.6 percent of revenue ($37.4 million) in 2013. Meanwhile, interactive revenue is expected to jump from 12.5 percent in 2009 to 24.4 percent in 2013. How do you see interactive operations evolving at Cygnus over the next few years?
French: That's a long answer. Again, we have exceptionally strong brands that provide us with online and custom online opportunities that are endless.
FOLIO:: What's your plan for market position? How do you see Cygnus' products now and where would you like them to be (in terms of first tier, second tier, etc)?
French: Several Cygnus brands are already in number one positions and are demonstrated leaders.  Over this difficult time, they have maintained those positions. For those that are number two, we plan to get them to number one.
FOLIO:: What are your thoughts on editorial quality? I remember the cover of the May digital edition of Aircraft Maintenance Technology raised some eyebrows, looking a lot like the Cessna ads on the following pages. What are your thoughts about that and will practices like that continue?
French: I am not aware of the AMT May issue, however, there is no question that editorial is to remain independent.
FOLIO:: What about personnel? Do you anticipate having to reduce workforce again before the end of the year/into 2010?

French: We have no plans to reduce workforce, but no CEO can say that layoffs may be required in the future. I don't foresee it at this point.
FOLIO:: Jim Ogle is no longer CFO. What's the process /timeline for naming a replacement?
French: We are deep in a search for a new CFO. I've had several interviews with unbelievably qualified and talented candidates who are excited about Cygnus and the opportunities here. Jim Ogle has done a tremendous job; he is a personal friend and we owe him our thanks for his work.  

FOLIO:: Cygnus, like others, has been forced to make a significant amount of job cuts and salary reductions/freezes over the last several months. What are your thoughts on helping to restore morale?

French: Perhaps surprisingly, morale is not as bad as I expected considering the economic climate and what Cygnus has endured over the past year. The best way to raise morale is through communication, communication, and more communication. Over the next few weeks, I will be meeting with as many Cygnus employees as possible. Meetings to date have been upbeat and employees are excited about the future.  Yesterday, September 21st was the beginning of a new company for us.
FOLIO:: As part of the reorganization plan, Cygnus's debt went from $180 to $60 million. Is that manageable?
French: Yes.

FOLIO:: Looking forward, what do you think is your biggest challenge about leading a b-to-b publishing company like Cygnus today?

French: In the last five to six years, manufacturers have spent more money on their company website and search and marginalized b-to-b media in terms of reaching their customer. We need to get back to that compelling position so that manufacturers see us as a partner in increasing their sales, not in a duplicate role.
The way to do that is to mine new customers and new opportunities through all the various platforms that we offer. The secret will be in delivering new and unique prospects, rather than just providing the same names. A successful b-to-b company in the future needs to use great content and editorial to drive audience development in finding new markets.  Developing a plan that is compelling is key to addressing this issue. Those companies that don't will get left in the dust. We will not be one of those companies.
Meet the Author
---