Bauer Launches Standalone Teen Site

4TNZ feeds advertisers' 'hunger' for independently-branded online content.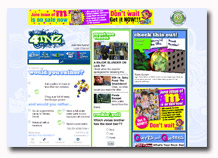 Celebrity magazine giant Bauer Publishing has launched what it says is its first major standalone Web initiative: a humor site targeted to younger teenagers.
The content on 4TNZ.com—including video, quizzes and user-generated stories—will be produced by the staffs of Bauer teen titles M, J-14 and Twist. One feature is an online station that airs originally-produced 90-second programs.
According to Bauer Teen Group publisher Ryan McConville, launching a Web site that's separate from its existing brands was the right thing to do because "advertisers are hungry for online opportunities that offer users something different other than the brand extension of an existing print property."
The site soft-launched May 27.
Meet the Author
---