Bankruptcy Court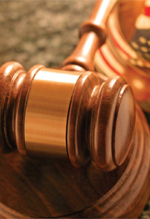 Bankruptcy courts are giving media companies that are saddled with enormous debt a future other than dissolution.
It was a common story in 2009. A magazine publisher is bought up by private equity which, in turn, assumes a load of debt in the acquisition. With the onset of economic fallout, those publishers struggle to make and often miss debt payments. In arrears to the tune of many millions of dollars, publishers—some of the biggest names in the industry—file for Chapter 11 bankruptcy, often resulting in private equity owners eating their losses and handing ownership over to lenders.
On the surface, that's bad news. But from a publisher's perspective, filing for and successfully emerging from bankruptcy protection eliminates millions of dollars of debt and the possibility of going out of business—or at the very least postpones it. Penton Media, for example, filed a pre-packaged reorganization plan in U.S. bankruptcy court in March and emerged a month later less $270 million in second lien debt (the publisher had carried approximately $1 billion in debt overall). Also as part of the plan, Penton's equity owners—including various funds managed by MidOcean Partners and Wasserstein & Co.—agreed to inject between $38.9 and $51.2 million into the company.
"At the end of the day, this restructuring was in everybody's best interest," Penton CEO Sharon Rowlands said at the time. "A lot of the time these things get caught up with people arguing. This was straightforward."
In the case of Cygnus Business Media, the company had reached an agreement with all but one of its investors on a debt restructuring plan. The sole holdout forced the company into bankruptcy court, which approved the plan about a month later, effectively lowering the publisher's secured debt from $180 million to $60 million.
The flip side, of course, is that the private equity firms wind up eating the debt loss. In the case of the Reader's Digest Association, which filed for Chapter 11 last August, ownership was passed in full to its lenders—including Bank of America, JP Morgan and GE Capital—leaving private equity firm Ripplewood Holdings, which ponied up $2.4 billion in 2007 to acquire it, in the lurch.
VITAL STATS: Bankruptcy courts have helped big magazine publishers eliminate millions of dollars of debt.
BACK TO THE 2010 FOLIO: 40 MAIN PAGE 
Meet the Author
---