Avi Zimak

Advertising Director, Tablet Media, Hearst Magazines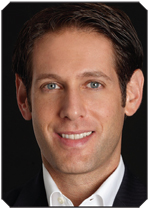 Avi Zimak is the first and only advertising director for tablet media within the magazine publishing industry.
Tablet media is rapidly expanding, and it provides magazine publishers with the potential to reach new audiences and create new revenues. It seems Hearst Magazines recognized this potential in 2010 when creating Avi Zimak's position as advertising director for tablet media. To date, Zimak is the first and only advertising director of tablet media.
Sometimes an advantage of starting at zero is there is no place to go but up. In reality, this is not always the case, especially in business. However, for Zimak, up is the only direction he foresaw when taking on his unique role. Zimak says, "We started at zero and all we have seen is growth." To clarify, Hearst has created a new revenue stream that began with 0 subscribers and has expanded to 600,000 paid ($19.99 annually) app subscribers since hiring Zimak in 2010. And In 2011 app advertising revenue increased 500 percent over 2010. Despite this notable growth and the projection to reach one million subscribers by year's-end, Zimak suggests that he still has "a lot of work to do."  He suggests that app-based media challenges publishers because it requires them "to get involved within the space" in order to captivate and tap into new audiences. And Zimak warns publishers who are slow or hesitant to follow his lead that "If it's [app-based media] not a focal point, you are in trouble."
It is not solely about numbers for Zimak. Research, education and innovation are also elements of his position that he fosters.  Because Zimak is the only one of his kind, he has an advantage to become an industry trailblazer. For example, he is instrumental in Hearst's initiative to create universal guidelines of standards and practices for tablet media. He actively participates in panel discussions to share his knowledge and industry insight. And he also oversees a digital think tank and app lab at Hearst.
VITAL STATS: 500 percent growth in app advertising revenue for 2011. Expecting to have 1 million paid app subscribers by years end.
Meet the Authors
---