Atlantic Media's Quartz Hits 840k Uniques in First Month

30 percent of traffic came from mobile devices.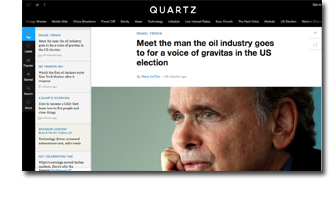 Just over a month after it launched, Atlantic Media's international business news site Quartz is reporting it attracted just over 800,000 unique visitors in October. Other audience metrics are already tracking similarly to established digital brands in Atlantic Media's portfolio, a factor that's hitting an encouraging note for the startup.
Traffic expectations for the early days of the site's performance were based partly on internal analogs like Atlantic Wire (launched in 2009) and Atlantic Cities (launched in 2011) and partly on gut instinct, but publisher Jay Lauf says results handily beat their 500,000 unique visitor benchmark for month one. 
"There's some gut guesswork involved," says Lauf, "but I think in this case we looked at a combination of our understanding of traffic growth on Atlantic Wire and Atlantic Cities and then the kind of market place Quartz is going after—a defined market of global business leaders. And the fact that we are in a new climate where digital brands can grow quickly if they take advantage of the digital jet stream. Plus, we thought social could really push us to faster growth."
Side-door traffic has so far worked in the site's favor. Social referrals accounted for 40 percent of Quartz's traffic in October. By comparison, TheAtlantic.com's social referral traffic is in the 30 percent range, a factor that Lauf says bodes well for the so-far less established Quartz.
Lauf also believes that high social percentage is what helped drive international traffic—40 percent of October's uniques were from outside the U.S. That metric was predicted accurately, he says. Launch sponsors were given a 60/40 ratio between domestic and international traffic during the site's roll-out phase.
Thirty percent of Quartz's traffic came from mobile devices, which again is in line with or higher than other established media properties. Twenty-five percent of The Atlantic's traffic arrives there via mobile, for example. Despite being built as a mobile-first destination, Lauf says it's harder to gauge traffic expectations for the platform—"There's not a huge raft of information on that."
Going forward, Lauf says expectations are to hit 2.5 million to 3 million monthly uniques by the end of next year. 
Meet the Author
---