The Atlantic Hikes Rate Base 12.5 Percent

Increase in subscriptions, online traffic fuels jump to 450,000.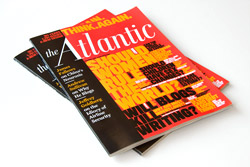 Following the Atlantic's historic rebranding effort this fall, the magazine will raise its rate base from 400,000 to 450,000, a 12.5 percent increase. The change is effective with the January 2009 issue.
The magazine attributes the need for the bump, in part, to increased online subscription sales and print subscriptions outperforming budgeted direct mail response.
Through the first six months, the Atlantic reported a total paid circulation of 439,318, up 11.6 percent over 2007, accord to the Audit Bureau of Circulations' FAS-FAX report. Subscriptions were up 12.9 percent to 396,068.
TheAtlantic.com in 2008 has averaged 18.5 million page views and 2.7 million unique visitors per month, compared to 5.2 million page views and 1 million monthly unique visitors last year, the company said.
Meet the Author
---