Atlanta Magazine Turns on Michael Vick

Regional publishes second draft of glowing 2003 profile.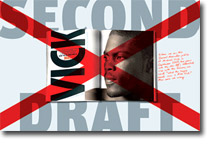 In a move that will most assuredly garner it a National Magazine Award nomination, Atlanta magazine has published a "second draft" of its September 2003 profile of Michael Vick, the Atlanta Falcons quarterback who pled guilty in August to federal charges for running a dogfighting ring from his southern Virginia home.
"When news broke and kept on breaking about the Michael Vick dogfighting scandal, it was hard not to forget our glowing 2003 feature that raved, 'What the league needs now is Vick, Mike Vick,'" Rebecca Burns writes
in an editor's note accompanying the magazine's November issue. "We've decided to eat our words."
It's rare when a magazine decides to eat its words, particularly this publicly. The
Emmis Communications-owned magazine reprinted the entire 2003 article—"word-for-laudatory word," Burns writes—annotated to reflect the post-dogfighting conviction era ("now is the first time Atlanta has had a franchise truly in the running for 'America's Team' 'Most Humiliated' status").
Despite the firestorm of negative publicity surrounding the Vick case, and subsequent pleas from animal rights groups, Amazon.com has refused to stop carrying dogfighting magazines, citing First Amendment rights.
Vick is scheduled to be sentenced December 10. He faces six years in prison.
Meet the Author
---