ASAE's Associations Now Magazine Set to Relaunch in October

Strategy includes a major cross-platform overhaul.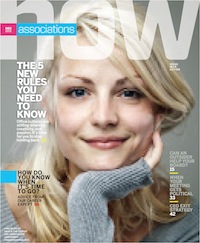 ASAE, The Center for Association Leadership, has announced plans to relaunch its publication, Associations Now, which will also coincide with the launch of a mobile app, a dedicated online news site, and a daily email newsletter. The relaunch is slated for October, and ASAE has aligned with TMG Custom Media to assist in development and strategy.
ASAE is targeting a 360-degree approach for offering its association members relevant content. Editor-in-chief Julie Shoop describes the changes as "an extension of a really strong brand." While the publication is redesigning its print product, Shoop indicates that what is significant is the addition of digital products. She says that, "Like every other publisher out there, we understand that the world has changed, as has the way we consume information. We were not in the digital space as a magazine, so the expansion into the digital world is a big step here."
In addition to the new digital products, organization was also vital in the relaunch. "In the past, people found it hard to find what they were looking for in the magazine, so we are going to have five standing sections, in addition to features, that cover major topic areas—leadership, technology, membership, money and business, and meetings. All of that content was in the magazine before, but it wasn't organized," says Shoop. She also says that organizing content in this manner will work well in the digital space. "The strength of the content is what brings people to it. Our current audience will find this really engaging and easier to use," she adds.
Associations Now previously did not have its own website, separate from the association. Shoop hopes that this new offering will not only enhance the existing reader's experience, but also attract a new audience. "This is truly a launch, it didn't exist before" Shoop says, adding, "[The site] will offer fresh online content every day, and is a new kind of content that ASAE has never provided."
For the time being, Associations Now's app will be a digital replica of the print publication. However, Shoop suggests that the technology does allow for interactivity within the content and for adverters. She describes the app as "pretty basic," and states that, for now, they "are not putting a lot of bells and whistles in it."
Associations Now is still finalizing its relaunch elements before the October release. However, Shoop discloses that the preliminary "buzz is good," from those who have seen design mock-ups and strategy plans. She describes the ASAE community as "very engaged" and thinks the audience will embrace the publication's new methods for delivering content.
Meet the Author
---