The Art of Enhancement: Digital Magazines 2.0

Digital features and tools become increasingly compelling.
Some publishers enhance their digital editions in all sorts of ways; others don't do much beyond delivering a replica of the print edition—usually including live links to advertiser Web sites. It really depends on the publisher's resources and the appetite of the publication's advertisers for engaging the reader.
Options for publishers vary from vendor to vendor, but most offer the ability to attach or embed audio and video. "We're seeing a strong increase in the use of video," says Marcus Grimm, marketing director at Nxtbook Media, and that's the experience of other vendors as well. About 25 percent of Zinio's clients, for example, are incorporating flash, audio, and/or video to bring their editorial to life and offer rich media to advertisers, including digital blow-in cards and bellybands. In Texterity's "Profile of the Digital Magazine Reader 2007," for example, more than 61 percent of respondents said they value video clips as a useful rich media add-on to digital magazines (see chart, below).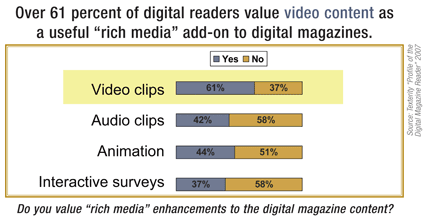 "In the past year," Grimm continues, "more publishers have come up with good RSS strategies, so we're also incorporating more RSS feeds into their content. I expect to see tighter integration of RSS."
Search capability, whether just the single issue or all archived digital content, is a useful and popular feature. Each subscriber to ALM's digital publications, for example, builds a searchable archive starting with the first issue that they receive. "Some American Lawyer subscribers have years of issues in their archives," notes Shane Molloy, director of circulation.
And zoom is an important (and sometimes necessary option) due to fonts and screen sizes vis-à-vis the print version's layout. Reed Business Information, which publishes about 50 digital editions, has spent a great deal of time trying to figure out ways to ease the navigation and legibility of digital editions, both editorial and advertising content, according to John Blanchard, VP of operations. "We're particularly focused on type and point size in order to eliminate the need for zoom and pan features." On the other hand, a recent survey of Playboy digital edition readers indicated—perhaps not surprisingly—that zoom was their favorite feature!
Partnering with Vendors on Feature Development
As digital delivery continues to emerge, vendors appear willing to collaborate on feature development with publishers that come up with or need something new. O'Reilly Media, for example, uses digital editions as an online circulation tool, and approached Texterity about developing a way to open the digital magazines up to Web searchers. Texterity spent about six months developing the capability, which O'Reilly funded, and another six months testing it. As a result, O'Reilly's digital magazines appear in search results for a particular reference. And when the searcher clicks on one of those results and lands at the appropriate magazine page, non-subscribers may view three pages forward and three pages back from the landing page. The last page offers an opportunity to subscribe. The technology identifies subscribers who, of course, have no limitations with regard to access.
"That technology is no longer completely unique to our magazines," says Dan Woods, associate publisher, "but, working with Texterity, we were the first company to have it. We get a lot of exposure for the magazines that way. In fact, it's rather phenomenal. It gets prospects involved and gives them enough information to whet their appetite. If we can reach them with a relevant article at that point in time, that's a good marketing tool for us."
Similarly, ITEM Publishing worked with Nxtbook to devise a lead-generation tool for advertisers in the digital edition of its Interference Technology. Called HooClix, it's now available to other Nxtbook clients as well. Basically, when a subscriber logs into the magazine online or links through e-mail, the e-mail address becomes a cookie. "We track the person's activity in terms of ad pages viewed," explains Graham Kilshaw, ITEM president. "The technology converts the e-mail address to a Web address to protect the individual and avoid any problem with the CAN-SPAM laws. Then, we send each digital advertiser a monthly report."
Indeed, tracking is a valuable tool both for publishers with regard to ad sales and for advertisers in terms of knowing who spent how long on the ad page and who clicked through to a particular landing page. "Digital technology allows you to know how sticky things are," says Steve Bernstein, president of Zenbu Media, which developed its own digital technology, called Zenditions, for its own magazines and now licenses it to others. "It's like an instant reader survey."
Meet the Author
---