Are You Putting Your Blog on the Kindle?

Amazon's revenue-sharing offer may generate it for some, but not many.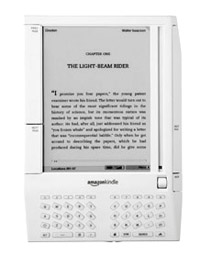 Last week, Amazon.com launched a self-service platform for its Kindle e-reader, allowing bloggers to publish in the Kindle Store using standard RSS technology.
Anyone can sign up for a blog vendor account and point Amazon to their blog's news feed. In return, Amazon says it will pay bloggers for each active Kindle subscription to their blog.
Before you say, "Yay! Free revenue stream!" keep in mind the returns may be impossibly small for most blogs. According to PC World, Amazon says it will take 70 percent of all subscription sales and deliver 30 percent of the revenue to the blog publisher. At a rate of $0.99 to $1.99 per month per blog, biggies like Huffington Post may generate a decent roll, but most won't. (Some notables currently on board include Gawker, TechCrunch and O'Reilly Radar.)
Still, it's about expanding your audience, right? Right?
Meet the Author
---