Are User-Generated Issues Worth It?

Free content is tempting, but someone still has to edit it.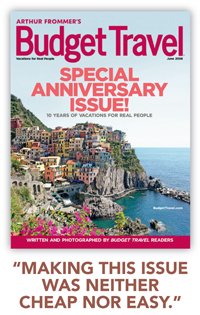 For its 10th anniversary issue in June, Budget Travel solicited some 2,800 pitches from readers, using them to generate all of the text and photography to create a 100 percent user-generated issue of the magazine.
The same month, This Old House became the first Time Inc. title to publish a 100 percent user-generated issue, with a "Your Old House" logo overlay on the cover.
BusinessWeek plans to publish a double issue in August filled with user-generated content focused on workplace challenges. Topics include "work-life balance, staying entrepreneurial, toxic bosses, time-management, negotiating bureaucracy, and generational tension."
While user-generated content gets the buzz online, most editors have largely been reluctant to turn over pages from their shrinking print folios to readers.
And with shrinking—in some cases, frozen—editorial budgets, the idea of employing user-generated content, rather than paying freelancers, is tempting. But if you're thinking you'll save money on a user-generated issue, be forewarned: editing users isn't easy, and may actually cost you more in the long run.
Budget Travel picked up 324 contributors for the issue. A piece called "50 Reasons You Love New York" elicited 500 submissions alone."Let's be perfectly clear," Budget Travel editor Erik Torkells wrote in a recent blog post for FOLIOmag.com. "Making this issue was neither cheap nor easy."
The magazine paid "normal fees" (about $1 a word) to its contributors, Torkells says, as well as travel expenses for companions—"something we don't do for professional writers." (Sending a family of four to Hong Kong, Torkells says, blew out the magazine's travel budget, no pun intended.)
But without an "extraordinary amount" of "deft editing," the issue "would've been a mess," he says. "Editing non-professional writers is never easy, especially when you're asking them to write long."
Not Cheap
This Old House had a similar experience in producing their user-gen issue. Executive editor Kathryn Keller says the magazine received thousands of e-mails, letters, photos and projects since editor Scott Omelianuk's first call for submissions in his December editor's letter.
In addition to the letter, the magazine created a dedicated microsite for readers to upload materials and then called for submissions at the end of magazine stories, in e-mail blasts and during the credits of the This Old House television show.
Although ad pages were up 3 percent over the same issue last year (which was created by the in-house staff), publisher Matt Turck says that the magazine "actually had to invest a little more than usual" to create it, due in part to the costs associated with building and managing the microsite. However, he says, "it was an advertiser success and early signs show a consumer success—we plan to do it again."
Not New
The concept of a user-generated magazine is not new. In fact, it's already been done in the travel category. 8020 Publishing's Everywhere magazine—comprised entirely of user-generated content on travel—was launched in 2007 after 8020's successful launch JPG, a magazine is comprised entirely of submitted photography.
It's a nod, Torkells says, to one of the major changes to have affected the travel industry in the past 10 years—namely, that consumers are turning to each other as much as to so-called experts for planning their trips. "You still need editors," Torkells says of Everywhere, adding that there's a "broad, service element" to Budget Travel's issue that Everywhere doesn't have.
Larger magazines have dabbled in user-gen, too. Wired has experimented with user-generated content in the magazine and on special covers; Dennis Publishing recently announced that its Bizarre magazine in the U.K. would relaunch with a direct focus on user-generated content; and magazines such as Time and Esquire have devoted feedback-style sections to content generated on their Web sites.
Torkells says he plans to do another user-generated Budget Travel issue in 2009. "In the future," Torkells says, "love it or hate it, an editor's role will be to lead a conversation, not deliver a monologue."
Meet the Author
---