Apple iAd Debuts on the iPad

Disney's 'Tron Legacy' ad features built-in email functionality.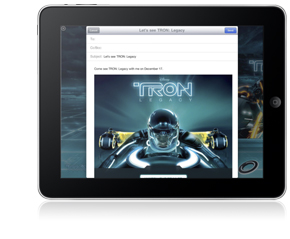 Apple has debuted its first iAd for the iPad this month. The mobile advertising platform, which was rolled out in July for the iPhone and iPod Touch, features an app within an app concept and grew out of Apple's purchase of Quattro Wireless earlier in the year.
The iPad iAd is an interactive spot for Disney's "Tron Legacy" and is featured in the TV Guide app. AdAge reports that the Tron ad is a preview of a full 2011 launch of the ad network for the iPad.
The Tron iAd carries forward the same app-like interactivity featured on the iPad's smaller-screen cousins. There is close to 10 minutes of video, movie stills, a theater locator and movie soundtrack previews with links to purchase the songs on iTunes from within the ad.
New, however, for the iPad version of iAd is email functionality which lets users send emails from within the ad. In this case, users can send a Tron e-card and recipients can click through to the Tron trailer page on Apple's Web site.
Apple said it expected to expand the iAd network into the UK and France this month and Germany and Japan in January. So far, the company says it has signed more than half of the top 25 U.S. advertisers to the platform—although there's reportedly been some issues with the lengthy production time.
Apple says engagement times with the iPhone and iPod Touch iAds averages more than 60 seconds. Developers receive 60 percent of iAd Network revenue, remitted through iTunes Connect, Apple's developer suite where apps and contracts are submitted and managed.
Meet the Author
---