Apple CEO: App Store Has Seen 35 Billion Downloads

Company says 91 percent of all tablet Web traffic comes from an iPad.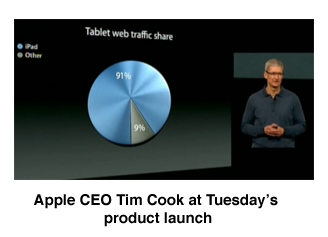 In addition to rolling out a suite of new products Tuesday—including the iPad 4, iPad Mini, iMac and new MacBook Pro—Apple introduced a variety of new stats and figures that demonstrate its growing reach.
According to the company's CEO, Tim Cook, customers have downloaded over 35 billion apps from the App Store. He added that in the App Store there are about 700,000 apps and 250,000 iPad apps.
"This is jaw dropping—the app store continues to exceed our expectations," he said Tuesday at a product launch event in San Jose, Calif., according to video footage from Bloomberg News. "Each time we get together it seems there is a number or statistic to illustrate the growth and momentum of this product, and today I am thrilled to tell you that two weeks ago we sold our 100th million iPad. That's 100 million in just two and a half years. This is unprecedented for a new product in a new category."
The iPad's successful early adoption rate seems to be apparent in other numbers Cook presented, namely those showing that 91 percent of all tablet Web traffic comes from an iPad, with the rest of the market sharing the remaining 9 percent. The app market has not only been prosperous for Apple—Cook estimated that the company has so far paid app developers over $6.5 billion. 
Stay updated on the latest FOLIO: news, follow us on Facebook & Twitter!
Meet the Author
---