Amazon Launches Kindle Cloud Reader

New HTML5-based app works with the iPad—without the fees.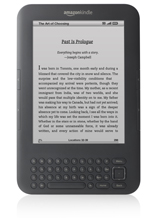 Amazon has launched its Kindle Cloud Reader, a Web-based app that lets users read e-books on desktops and tablets–including Apple's iPad.
The kicker is Amazon won't have to pay Apple's 30 percent commission. Apple previously forced Amazon and Barnes and Noble to remove buttons from iOS apps that link to their respective storefronts (In July, Apple's request to force Amazon to stop using the term "Appstore" was denied by a U.S. court).
"We have written the application from the ground up in HTML5, so that customers can also access their content offline directly from their browser," said Dorothy Nicholls, director of Amazon Kindle, in a statement. "The flexibility of HTML5 allows us to build one application that automatically adapts to the platform you're using – from Chrome to iOS."
The Financial Times, Kobo and video-on-demand service Vudu have also launched HTML5-based apps that circumvent the 30-percent Apple commission.
In December, Amazon increased the publisher revenue share on Kindle to 70 percent (a reversal on Amazon's previous policy of taking the 70 percent share).
Meet the Author
---