Affluent Prefer People to the Sunday 'Times'

A report on the 2008 Mendelsohn Affluent Survey.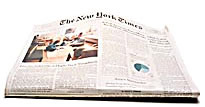 Affluent consumers are heavy readers of magazines and Internet users, compared to the rest of the population.
People magazine has the largest affluent audience, with more than 7 million affluent heads of household reading the magazine per issue—nearly triple the audience of the Sunday New York Times—while just 264,000 read the Robb Report.
This, according to the 2008 Mendelsohn Affluent Survey, the annual glimpse at the upscale segment of the American consumers, now in its 32nd year.
Mendelsohn focuses on the top portion of U.S. households, defining affluence based on income of $100,000 or more—about 20 percent of households in 2008, the firm says. The results were based on 13,522 respondents (they were paid either $5 or $10 cash for completed questionnaires.)
Although virtually all affluent households own and use computers and cell phones, just 40 percent use their cell/mobile devices to access the Internet, something that could be troubling for publishers pouring resources into mobile strategies.
Mendelsohn measured the audiences of 115 publications.
After People, Pace Communications claims the largest affluent audience (5.64 million per issue across its magazines) followed by National Geographic (5.33 million per issue, 6.87 million for all National Geographic titles), Sports Illustrated (4.54 million) and Time (4.37 million).
Interestingly, regional titles like Sunset (1.59 million) and Texas Monthly (681,000) have a larger audience than some national finance titles like Inc. (560,000) and Fast Company (398,000).
Meet the Author
---